Bangor University unites employers and students at unique law careers fair
With 91% of first degree Law graduates in work or further study six months after graduating and a commitment to improving the career prospects of its students, it's easy to see why Bangor University Law School is ranked as the no.1 law school in Wales, according to the latest league tables from The Guardian.
One of the ways in which the School aims to enhance its students' employability is through its annual Law Fair, where aspiring young lawyers have an invaluable opportunity to meet and network with some of the region's most prominent employers, including solicitors and barristers, as well as those from the non-legal sector.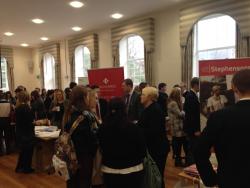 Last year's Law Fair was a huge success with students
Taking place at Bangor University on Wednesday, 4th November, this year's Fair promises to be the biggest and best event yet, with employers from North Wales, the North West and as far afield as London scheduled to attend. Sir Roderick Evans, former Presiding Judge for Wales, will open proceedings and preside over a mock trial between some of Bangor's Law students.
The aim of the Law Fair is to demonstrate the diverse job opportunities available to law graduates, from the traditional barrister and solicitor routes to banking and local government. Specialised breakout sessions will help them to learn more about these various career pathways and offer them a chance to discuss their options in more detail with employers.
Gamlins Solicitors, who have offices throughout north and mid Wales, are one of around 30 employers attending this year's Law Fair. Richard Williams, one of the Senior Partners at Gamlins, said: "we are pleased to support Bangor Law School and wish the Law School every success with the Law Fair".
Now in its third year, this one-day event is the latest in a line of initiatives conceived by the Law School to enhance the employability of its graduating students. "It is initiatives like this that result in our outstanding graduate employment rate, and exceptional student satisfaction results", explains Professor Dermot Cahill, Head of Bangor Law School. "My colleague Gwilym Owen and his team have built this Fair into a major annual event, and employers from across a wide range of careers are now seeking to get involved, as they know that Bangor Law School is the place to come to when looking for top graduates."
Students attending the Law Fair will be encouraged to forge their own contacts with prospective employers by gaining crucial work experience – something that the Law School facilitates through its popular placement scheme, which has grown year-on-year through the continuous development of contacts in both legal and non-legal firms. Examples of companies with whom Bangor's Law students have recently undertaken work experience include OpenJaw Technologies, Dublin; the Authors' Licensing and Collecting Society, London; and Linenhall Chambers, Chester.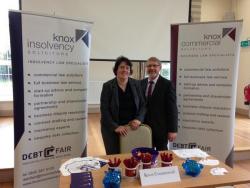 Knox Insolvency Ltd at the 2014 Fair
"We have been very successful over the past number of years in terms of sourcing internships and mini-pupillages for our students", says Dr Mark Hyland, a member of Bangor Law School's Employability Committee. "We are particularly proud of our link with Linenhall Chambers as it is a professional relationship that is truly mutually beneficial. We make available meeting and conference facilities to Linenhall, and they in turn provide us with a number of important and much sought-after mini-pupillages every year".
As part of its wider efforts to inspire the next generation of lawyers, Bangor Law School will also be hosting a Law Conference for local sixth formers on Wednesday, 18th November. Around 130 pupils from North Wales schools and Further Education colleges will attend this taster day, giving them a chance to see first-hand the reality of studying a law degree. They will meet staff and students, take part in lively discussions and a quiz, and witness Bangor students conducting a mock trial or 'moot'.
Confirmed exhibitors attending the Law Fair include:
Advent Project Management
Andrew Hughes Wealth Management Cyf
Bennett Smith Solicitors
BPP
Careers & Employability Service, Bangor University
Carter Vincent
Citizens Advice Bureau
Civitas Law
Coleg Cymraeg Cenedlaethol
Department for Business, Innovation and Skills
Fieldings Porter
Gamlins
Howell Jones Cyfreithwyr Solicitors
Hugh James
JMW
Knox Insolvency Ltd
Linenhall Chambers
Nelson Myatt Solicitors
North West Wales Magistrates Association
Norton Rose Fulbright
NWL Costs Lawyers
Probation Service
RKH Marine & Energy
Santander
Silverman Sherliker
Swayne Johnson
7 Harrington Street Chambers
Publication date: 29 October 2015