Bangor University Visits the Uzbek Banking Association
On the 17th October, Bangor University visited the Uzbek Bankers Association in their impressive headquarters in Tashkent. Bangor University has a long history of working in Uzbekistan with a very successful partnership of over a decade allowing students to study Bangor University undergraduate programmes at MDIS Tashkent (Management Development Institute of Singapore). These Bangor University programmes from the Bangor Business School and more recently the School of Computer Science and Electronic Engineering have been very popular in Uzbekistan. The visit coincided with a graduation of over 300 Bangor University students at MDIS Tashkent.
The Uzbek Bankers Association was established by the late President Karimov to work closely with the Uzbek government and central bank to develop and reform the Uzbek banking system. The visit recognises the long standing role of Bangor University in providing banking and finance education both in UK and internationally for over a century. Currently Bangor University provides education to students from around the globe and has formal agreements with nine national banking associations in the UK, Africa, the Caribbean, Europe, the Middle East and Asia.
Commenting on the visit, Professor John Ashton from the Bangor Business School, also in attendance, stated "It is a great pleasure to develop our relationship with the Uzbek Bankers Association and the nation of Uzbekistan. We look forward to working with Uzbek Bankers Association in the future to professionalise banking and financial services education."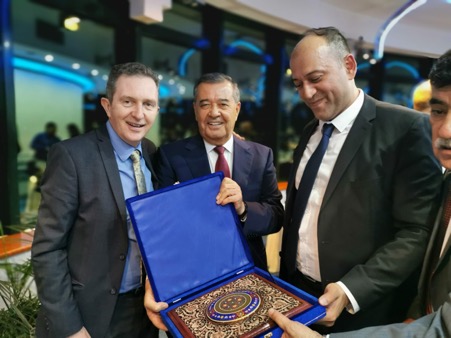 Professor Oliver Turnbull (Bangor University, Deputy Vice Chancellor), Bakhtiyar Khamidov (Uzbekistan Banking Association, Chairman) and Dr Jasur Salikhov (MDIS Tashkent, Rector).
Publication date: 30 October 2019