Bangor University wins Sustain Wales Award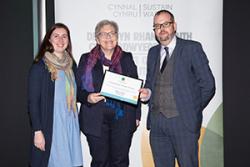 Dr Einir Young and Dr Gwenith Elias accepting the Sustain Award on behalf of Bangor University at the Senedd in Cardiff.Bangor University came first in the Sustain Wales Awards Further Education category. The Award recognised the educational institution that demonstrated strong evidence of impact or innovation, and was sponsored by Acuity Legal.
More than 11,000 individuals participated in the vote and we extend a special 'thank you' to all who voted for Bangor University! Congratulations to all the other eight winners and nominees; it was inspiring to learn of all the excellent work on sustainability taking place across Wales.
In the words of Dr Einir Young, Director of Sustainability at Bangor University:
"It's just over a year since The Sustainability Lab was established as the corporate focus of sustainability at Bangor University. We are growing into a hub and catalyst for bringing sustainability to life in all aspects of what the University does through research, teaching and learning, public engagement and our campus affairs. It's relatively early days on our journey towards becoming The Sustainable University so I was delighted to be presented with the award."
Would you like to be part of the exciting sustainability developments at Bangor University? Click here…
Publication date: 29 November 2016