Bangor University Wins UK Award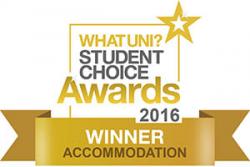 Bangor University has received a prestigious Award at an event in London, as a direct result of rave reviews by the University's own students.
Having been nominated in seven out of ten categories for the Whatuni Student Choice Awards for 2016 including one for overall University of the Year, Bangor University won the Award for Best University Accommodation. The University was also placed second in the UK for Courses and Lectures, third in the UK in the Student Support category and fourth in the overall University of the Year category. A total of 125 universities in the UK competed for the 2016 Awards.

The latest accolade is a further endorsement of the quality of the courses, accommodation, facilities and students support provided by Bangor University and follows another remarkable year which has also seen it retain its position as best in Wales and in the top ten in the UK in the National Student Survey for student satisfaction.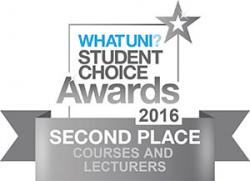 Professor John G Hughes, the University's Vice-Chancellor, welcomed the news saying:
"This is the second year in a row that Bangor University has won a national Whatuni Award. I'm delighted that the University has again won a category award, and achieved top five placings in a number of other categories. This win reflects our focus on providing an excellent education and all-round student-centred university experience. I'm grateful to our students for their support, and very pleased that they appreciate their time in Bangor. I would also like to thank all our staff for their fantastic efforts."
Ken Griffith, Head of Residences, said: "It has been a tremendous team effort over the last few years as we have also opened our new St Mary's student village, increasing our portfolio to nearly 3000 rooms. What is important is that our high quality and service standards have been maintained throughout and that our students have acknowledge this with their voting. We are well placed to give next year's intake the best student experience in their halls."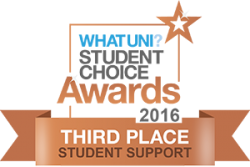 Based on average responses from over twenty five thousand students across the UK, placing their views on the Whatuni Student Rankings website, Bangor's students responded so positively to their experience at the University that Bangor was nominated for Awards in the following categories:
Accommodation
Courses & Lecturers
Clubs & Societies
International
Uni Facilities
Student Support
Overall University of the Year
Simon Emmett, Managing Director Whatuni.com, added:
"Bangor University has had a strong endorsement from their students in this year's Whatuni Student Choice Awards. Student experience is such an important aspect of university life, we are really proud to play a significant role in it for both current and future students."
Publication date: 15 April 2016