Bangor University Zoology alumnus to share his passion for conservation in a Channel 4 documentary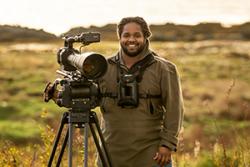 Hamza YassinA Bangor University Zoology with Conservation alumnus will feature in a new Channel 4 documentary Scotland: My Life in the Wild this Saturday (12 December) at 6pm.
This one-off programme follows wildlife cameraman and Bangor alumnus Hamza Yassin as he endeavours to capture iconic species like red deer, pine martens, white-tailed sea eagles and puffins that live on his doorstep. The programme features the Ardnamurchan peninsula on the west coast of Scotland, which is one of the most spectacular wildlife locations on the planet.
Hamza graduated from Bangor with a BSc in Zoology with Conservation in 2011. His first opportunity as a presenter was on BBC's The One Show as one of their wildlife cameramen. Hamza is presenter of the hugely popular CBeebies' live-action show Let's Go For A Walk and has also shared his knowledge and film-making skills on BBC's Countryfile.
Hamza is achieving success in a highly competitive field and one which many Bangor University students and potential students aspire to join after completing their degrees.
Keen to give back to his alma mater, Hamza will be inspiring the next generation of wildlife enthusiasts by giving a lecture to Bangor University students next semester. He has also recently been made an Honorary Associate in recognition of his significant contribution to the work in the School of Natural Sciences.
Hamza said of his time at Bangor: "My time at Bangor University ignited my passion for conservation and wildlife and I am so grateful for Bangor's support and encouragement through my studies, I am really looking forward to returning to Bangor to share my experiences with current student."
Professor Julia Jones, one of Hamza's former lecturers, said: "I remember Hamza very well. He was a super engaged student who especially loved getting out in the field. He also had a wicked sense of humour. It's no surprise at all that Hamza is making such a success of his career, I'm absolutely delighted for him."
The programme is available on All4 until 8 January 2021.
Publication date: 10 December 2020