Bangor victorious on University Challenge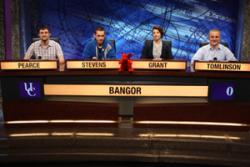 Bangor University took on and beat Scotland's oldest University, the University of St Andrews in the traditional arena for university students: University Challenge on BBC 2 Wales at 8.00 pm last night (September 24th).
Representing Bangor University in this, the ultimate quiz show, were a team selected from over 100 students who took part in the initial trials. They were:
Bangor University Team Captain, Nina Grant, who is studying French & Linguistics; Simon Tomlinson, studying a PhD in Neuropsychology; Mark Stevens studying for a an Environmental Science degree; Adam Pearce, studying for a PhD in Translation Studies, and Team reserve, Catriona Coutts, who is an undergraduate English Literature student.
The Team went through a selection process that included several rounds of questioning, both at Bangor and at the Granada TV studios in Manchester and are now looking forward to competing in the second round.
Publication date: 21 September 2012