Bangor weightlifters bring home the gold
Bangor University students secured podium positions at the British University and College Weightlifting Championships which took place at St Mary's University, Twickenham recently.
Over 100 lifters, coaches and spectators attended the two-day competition with over 50 universities and colleges represented.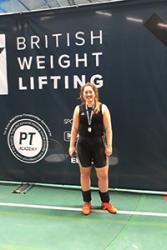 Steph FosterStephanie Foster, 21, from Wigan won gold in the Women's Under 90Kg category. A third year Applied Terrestrial and Marine Ecology student, Steph is new to weightlifting attending her first competition in November 2017 where she became Welsh Open Champion.
Steph said: "I love weightlifting and I'm very proud of what I have managed to achieve whilst balancing training with my final year of university. Winning this competition meant a lot to me, and helps the momentum in training moving towards the British Championships in the summer."
Steph's short term goal is to podium at the British Championships with a hope of eventually representing GB in an international competition and compete in the next Commonwealth Games in Birmingham in 2022. She has also won BUCS gold in rowing and powerlifting during her three years at Bangor University
Michael Farmer, 18, Caerphilly won gold in the Men's 69Kg category. Michael is studying a Geography degree and a Bangor University Sports Scholarship recipient.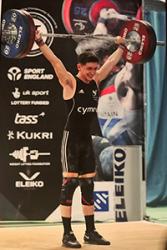 Michael FarmerMichael said: "Training for this has been great in the build-up, everything has fallen into place and I'm stronger than ever before. Winning the competition gave me enormous satisfaction as well as showcasing Bangor's top class facilities and ability to produce high level athletes. Further to winning on the weekend, I surpassed qualification for the European Juniors in La Coruna, Spain in July and World University Championships in Poland in September, which means that I can represent my country and Bangor University on an international level."
Michael's longer term goal is to medal at the Commonwealth Games in Birmingham in 2022.
Iona Williams, Sport Development Manager at Bangor University, said: "We're very proud of Steph and Michael's achievements. Steph is obviously a natural talent and fits in well with the other weightlifters at Canolfan Brailsford, whilst Michael is progressing admirably and we're looking forward to supporting him at the European and World Championships later on in the year."
Publication date: 25 April 2018