Bangor welcomes legal eagles from across the globe for annual Summer School
Bangor Law School has welcomed legal professionals and students from around the world for its annual Summer School.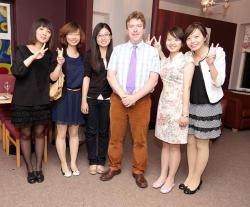 Professor Cahill, Head of School, with delegates from China's Renmin University
Bangor's renowned Legal English Summer School offers practicing overseas lawyers a unique opportunity to benefit from the School's expertise and to improve their legal English. Given the international nature of Law, a strong grasp of legal English and its technical terminology is vital in order to successfully compete in today's global job market and make career progression within the legal profession.
This year saw delegates from Italy, Japan, China, Sweden, Latvia and Slovakia attend the two week programme, which integrates the Legal English training with a packed social calendar. The itinerary included excursions to Newborough beach, Snowdonia, Conwy Castle, Puffin Island and Plas Newydd country house, concluding with a closing dinner and awards ceremony with a special guest of honour Julie Burton, Principal of Burton Law and President of Gwynedd Law Society.
"The Legal English summer programme at Bangor presents a great opportunity for lawyers from different countries to improve their Legal English in a historic British university located in one of the most beautiful parts of the UK", said
Delegates and staff from the 2012 Legal English Summer School, with Julie Burton (centre), President of Gwynedd Law SocietyProfessor Dermot Cahill, Head of Bangor Law School. "Participants take some lectures from the Law School staff and this provokes stimulating discussion of how different legal systems deal with common legal problems. The social and touristic programme is very attractive and the delegates really enjoy each other's company in our beautiful coastal campus."
Comments from delegates:
'The mix of nationalities on the course is fantastic. I've not only made friends all over the world, but also learnt about their legal systems'
'The social programme was very interesting and a very good opportunity to learn British culture and make new friends'
'A valuable experience to talk with students and lawyers from different countries'
'The mix of nationalities makes the classes international and interesting'
'I would especially recommend this course to practising lawyers'
For further information about the Legal English Summer School, please click here.
Publication date: 23 August 2012