Bangor wins Future Leader Fellowship
An academic at Bangor University's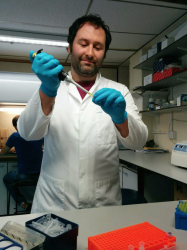 Dr Chris Staples in his lab.School of Medical Sciences has been awarded a prestigious Future Leader Fellowship by UK Research and Innovation (UKRI), a major UK funding body.
Dr Chris Staples joins top researchers and innovators from across the country to receive a portion of a £78 million cash boost provided as Future Leader Fellowships. This investment is designed to propel the next generation of scientific leaders, as they conduct cutting-edge research and develop their research independence.
In all cells, our DNA is constantly being damaged, and such alterations to our genetic code can lead to diseases like cancer and neurodegeneration. In response, we have evolved tumour suppressive mechanisms to repair specific types of DNA damage. Some cancer cells are defective in their DNA repair and can therefore be targeted by DNA-damaging chemotherapies or radiotherapy. Dr Staples work focuses on understanding these repair mechanisms, and how these could become the target for new personalised cancer therapies.
Dr Staples said, 'I am delighted to receive this fellowship, and my team and I will do our very best to achieve our goal of further understanding how DNA is repaired, and potentially exploiting our findings to benefit cancer patients'.
Professor Dean Williams, Head of the School of Medical Sciences at Bangor University said:
'I am very pleased that this Fellowship has been awarded to Dr Staples. It comes at an exciting time for the School as we also host the first cohort of Medical Students from Cardiff University, who will be able to complete their entire medical training in North Wales. These new developments really illustrate the quality of our research and teaching staff."
Future Leaders Fellowships are helping universities and businesses in the UK recruit, train and retain the world's best researchers and innovators, regardless of their background.
Dr Staples has been awarded £1.4m for 4 years, with the possibility of a further 3 years support.
Science Minister Chris Skidmore said:
"Delivering on our research and innovation ambitions means putting people first, whether they are just starting out in their career or are leading major projects in academia or industry. These inspirational Future Leaders Fellows will generate the ideas of the future, helping to shape science and research for the 21st century."
Professor Sir Mark Walport, UK Research and Innovation's Chief Executive, said: "The Future Leaders Fellowships will enable the most promising researchers and innovators to become leaders in their fields, working on subjects as diverse as climate change, dementia and quantum computing.
"UKRI is committed to creating modern research and innovation careers and our Future Leaders Fellowships aim to support and retain the most talented people, including those with flexible career paths."
Publication date: 20 September 2019