Bangor Young Enterprise team pick up Award in London
Congratulations to Bangor University's 'University of Ales' team who represented Wales in the UK finals of the Young Enterprise Start Up Programme in Canary Wharf, Londonrecently. the Team won the Best Investment Proposal/Company Report- one of the four Awards presented on the night. This is the first time that a Welsh team has reached the finals, and the team were the only one who completed the work on top of their workload- not as a part of their course work.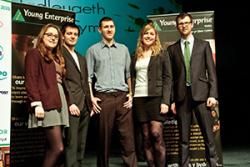 The Young Enterprise Start Up programme offers students an opportunity to experience real-life creation and running of a business and to develop all the associated skills and over 60 Bangor University students expressed an interest in participating.
The team, comprising four Consumer Psychology & Business Masters students and two Business school undergraduates, have been running 'University of Ales' over the past few months and have been working hard to rebrand real ale for an emerging student market. The team have carried out significant market research and have developed effective branding and marketing strategies to target students and have the support of CAMRA (the campaign for real ale). They are sourcing the ale from Conwy Brewery and already have confirmed stockists. At the recent launch event held at Bar Uno, the 'Thirst Glass Honours' Ale sold out in 3 hours.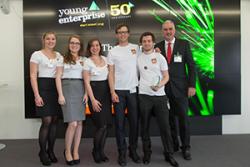 Picking up their Award: Theresa Schween, Maria O'Reilly, Emma-Louise Jones, James Gudgeon, Jamie Muir, Kingsley Taylor, Divisional Manager, Santander Business Banking. Throughout the process University of Ales have been mentored by Chris Walker, from the HEFCW funded Enterprise Support Programme with support from Dr James Intriligator, Senior Lecturer and Director of Commercialisation in the School of Psychology and the B-Enterprising team at the Careers & Employability Service.
In March, the team also won the Bangor University Santander Entrepreneurial Awards and will also be representing Bangor University in the national Santander competition.
Callum Jones, final year Business School undergraduate and Chairman of the North Wales Board for Young Enterprise said "I'm so proud of the team; they are the first team to ever represent Wales in the UK final. Over the past months it's been great to work with the team and watch them develop, and I'm thrilled that I was able to work with the staff involved in helping to bring the Young Enterprise programme to Bangor University during my own final year in the university. Hopefully Bangor's success will encourage more universities across Wales to allow students to set up and run their own business, and like the team from Bangor enable students to graduate with a successful business that they could jump straight into"
More information about the Young Enterprise programmes can be seen here - http://www.young-enterprise.org.uk/what-we-do/higher-programmes/
The ale can be tasted at Bar Uno on the Ffriddoedd site and the company also have a Facebook page. Show your support by liking their page www.facebook.com/universityofales
Publication date: 19 May 2013