BBS students attend business leaders' event in London
Staff and students from Bangor Business School were invited to this year's CPA Australia Future Leaders' Luncheon an exclusive event held in London.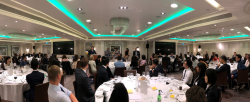 CPA Australia Future Leaders' LuncheonAccompanying Dr Annika Beelitz (Lecturer in Accounting) to the Future Leaders' Lunch at the Sofitel London St James in October were top-performing Bangor Business School students Raja Asad and Rebecca Molloy.

The event provided a fantastic opportunity to connect business leaders with young leaders of the future. An exclusive panel of business leaders all spoke about their respective career journeys, their experiences, and how to build a successful career.
The panel discussion included four senior executives from a range of organisations including
Huawei Technologies, State Street, Bank ABC
and
Adstream
, and was chaired by Max Shao from the CPA Australia office in Guangzhou, China. In addition, students also had a unique opportunity to network with business professionals from companies including
Emirates Group, Allergopharma GmbH & Co. KG, Syngenta
and
Colgate-Palmolive
.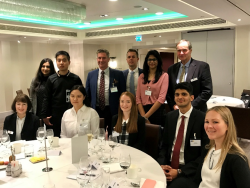 Our students were invited to take part in this exclusive event to represent Bangor University as one of only 16 institutions across the country.
Publication date: 21 November 2018