Be human, be Fluxus!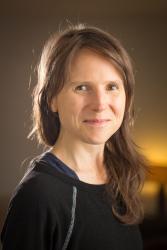 Sarah Pogoda, Senior Lecturer in German Studies John Lennon's partner Yoko Ono was an artist in her own right and was a leading member of Fluxus, an art movement of the 1960s and 1970s.
Fluxus used everyday actions, gestures and 'found tones' such as (noises from their surroundings??) to create Avant Garde performances. Fluxus revolutionised the arts world. They broke with everything that had previously been seen in the bourgeois world of art and politics since World War II.
Sarah Pogoda, Senior Lecturer in German Studies at Bangor University will talk about her arts-based research into Fluxus at the Being Human Festival 2020, a UK- wide event focussing on the humanities.
For Sarah, "Fluxus is of particular interest during Covid-19 lockdown, as Fluxus encourages everyone to use the world at hand for making art." Imagine performing a Fluxus 'opera' by rhythmically banging on a frying pan for 45 minutes; or climbing a ladder to drip water into your cuppa from different heights ...
If you want to learn more about Fluxus or Sarah's research project, you can join the online "Fluxus Café" on November 16, 5:00 pm - 6:00 pm. For more information, please visit:
https://beinghumanfestival.org/event/fluxus-cafe/
"Fluxus enriches your everyday life, it is pure fun", one of the artists involved in Sarah`s research said. At the Fluxus Café, you will get the chance to talk to other artists involved in the research.
"It is important to keep in mind that art does not only happen in museums, theatres, galleries, books or cinemas", Sarah adds. "Fluxus shows us, that it is more a way of perceiving the world. This is why, if you look around, you will see Fluxus emerging anytime and anyplace in Wales. Wales is a Fluxus place."
Publication date: 30 October 2020