Bench to Bedside and Beyond
Bangor University officially launched its innovative new institute on Thursday (25th February) to widespread acclaim.

The Bangor Institute for Health and Medical Research (BIHMR) will sustain and extend Bangor's already excellent record in health and medical research, bringing together renowned academics in a broad range of fields.

Not only will the Institute impact and improve health care in Wales, but also across the United Kingdom and wider world.

Professor David Shepherd, Deputy Vice Chancellor, opened the event in Reichel Hall, before several prominent figures including Professor Julie Williams CBE, the Welsh Government's Chief Scientific Advisor, and Dr Ruth Hussey OBE, the Chief Medical Officer for Wales delivered short keynote talks. They were joined by Professor Jo Rycroft Malone, who, as well as being the University's Pro-Vice Chancellor for Research, is also Chair of the National Institute for Health Research, Health Services and Delivery Research Programme.
Professor Rycroft-Malone outlined how the Institute will have a direct impact on practice and policy, impacting directly on healthcare, consolidating a translational research ethos that resulted in Bangor being third out of 94 institutions for health research outputs in REF2014. The institute will contribute to improving the patient experience by bringing evidenced-based practice to clinical environments.

Professor Rycroft-Malone said: ''We will continue celebrating the results of REF2014 which put us third out of 94 UK Universities in terms of the quality of our health research outputs . The Institute will be a catalyst for helping us address the most important health challenges in society.''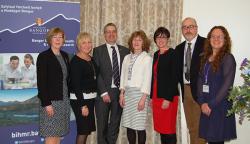 Professor Williams, Chief Scientific Adviser for Wales who also specialises in Alzheimer's research, outlined how Wales was over-achieving in terms of research, compared to the UK average. She was delighted to see Bangor University having such a positive impact saying "I'm very excited about this new initiative, and I'm looking forward to seeing it develop." She went on to comment that ''Research at Bangor already has an international impact, and this Institute will build on that. Your [Bangor University's] strengths lie in applied health care that is relevant to clinical practise, but this research will bring even more ideas. The only way of increasing the number of researchers is by pulling our strengths together.''

Dr Hussey, Chief Medical Officer for Wales and originally from Bangor, talked about the Health challenges Wales will face in the future. She said: ''Bangor University already has a good track record in terms of its broad-based research. The Institute will have huge impacts, and will hopefully answer questions that the health service needs, such as the cost-effectiveness of treatments. It will affect primary care, besides informing policy on a wider level and guiding governments.''

Dr Peter Higson, who studied at Bangor and is currently Chairman of the Betsi Cadwaladr University Health Board, echoed two of the core aims of BIHMR saying that ''The research will lead to better services, and will improve the recruitment of professionals to work in the health service in Wales. It is the beginning of a good chapter of collaboration, and will create a good research environment. To assist Health and Medical Research, BIHMR will provide a platform for researchers to undertake the highest quality research. Bringing together leading academics from across the profession will increase opportunities for interdisciplinary work in clinical and applied research and by working with Betsi Cadwaladr University Health Board, Bangor University will not only attract the best medical and health researchers to North Wales, but will also create a thriving NHS research environment in the local area."
By Bangor University student Mark Barrow
Publication date: 14 March 2016