BIBF Alumnus of the Year 2019
The Dean of the College of Arts Humanities and Business, Andrew Edwards and the Head of Business School attended the Alumni Reception recently held at BIBF.
The Alumnus of the Year 2019 was awarded to Fatema Bastaki who studied Banking and Finance at Bangor University in 2012.
Fatema is now a Marketing, Public Relations and Social Media Specialist and TV News Presenter.
Fatema studied her diploma in Banking and Finance in BIBF 2008 – 2011, before coming to Bangor to gain her BSc in Banking and Finance in 2012.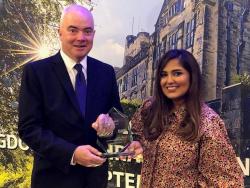 Fatema Bastaki receiving the Alumnus of the Year award from Professor Andrew Edwards.
On her return to Bahrain, Fatema held finance roles at Credimax, American Express and Bahrain Bourse. Her career in Public Relations started in 2013 as a Public Relations Officer by establishing the PR department at Bahrain Commercial Facilities Company, and moved to manage the department in 2018. As well as managing the PR department she had another role in the company in 2016 as Co-Brand Manager for the only female credit card in the Kingdom of Bahrain, 'Imtiaz For Her', leading the women empowerment movement. Alongside her main job , Fatema is also a TV Presenter and Editor and Business News Presenter (Arabic) for the Ministry of Information Affairs and also works as a bilingual Master of Ceremony, Voiceover and IVR Artist in both Arabic and English for a range of clients.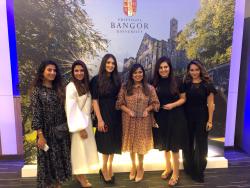 Former alumni from BIBF who attended Bangor Business School.
Fatema has considerable experience as a volunteer for groups such as the Bahrain Cancer Society, the Bahrain Disabled Sports Federation, UCO Elderly Day Care and the Al Sanabel Orphan Care Society.
She was part of the BIBF Student Council and in 2016, gained an Advanced Certificate in Public Relations from the Chartered Institute of Public Relations.
Publication date: 26 September 2019