BPS Awards for Psychology PhD Students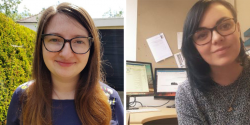 Ashleigh (left) and LeanneTwo PhD students at the School of Psychology have won awards organised by the BPS Division of Academics, Researchers and Teachers in Psychology (DART-P) in association with PsyPAG.
In first place overall was Ashleigh Johnstone, and Leanne Rowlands was a runner up in third place.
Professor John Parkinson, Head of School said: "Many congratulations to both on their fantastic achievement. We're delighted that our students have won two out of the top three spots in an all-UK competition for PhD teaching excellence."
As part of the School of Psychology's built-in teacher training programme for PhD students, Ashleigh Johnstone gained experience of teaching small groups, observing experienced teachers, and providing feedback to students.
She has provided marking support for several additional modules, given a guest lecture, designed a seminar to be delivered to all first-year psychology undergraduates, and co- developed a professional development seminar for her peers.
She said: "I don't think there is anything better than helping a student with something they struggle with and seeing that moment when it all clicks into place, or helping a student with anxiety feel comfortable enough to put their hand up in class and participate in a discussion.
"During my classes I aim to inspire and support student learning by putting students at ease. I am honoured to have been awarded the PsyPAG/DART-P Teaching Award, and I'm truly grateful to the staff and students who supported my nomination."
During her PhD studies, Leanne Rowlands has been a Graduate Instructor (GI) for Research Methods modules through the medium of Welsh and English, facilitated 'Skills and Stats Drop-ins', co-supervised postgraduate students, carried out guest lectures, and taught neuroanatomy through practical labs with real human brains.
Leanne Rowlands said: "I have thoroughly enjoyed my teaching experience, and it has brought so much meaning to my life. In particular, I enjoy interacting with students and seeing them achieve their goals."
The built-in teacher training programme is a unique feature of doctoral training within Bangor Psychology, with the programme being accredited by the Higher Education Academy (HEA). Having recently completed the programme, Ashleigh and Leanne have both become accredited as Associate Fellows of the HEA.
Publication date: 24 June 2019