Bringing 18th century Anglesey to life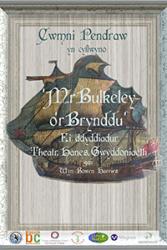 A fascinating set of diaries recording life on Anglesey during the 18 century are to be brought to life in a series of dramatic performances at the diarist's home.
The diaries, kept safely in Bangor University's Archive, and now transcribed and available to be read and seen online, were written by William Buckley, who lived between 1691-1760. He was the Squire of Brynddu, a small estate a stone's throw from the Wylfa Power Station on Anglesey: but what a different world his diaries describe!
Two performances, one for schools and one for the public, will bring highlights of the diaries to life on Friday 19 September (for schools) and Saturday 20 September. Saturday's public performance begins at 2.00 at Brynddu, Llanfechell and will involve a 10 minutes' walk through fields to a performance at Llanfechell Church and presentation at Capel Libanus, Llanfechell.
The bilingual production, Mr Buckley o'r Brynddu is by Cwmni Pendraw, who have formed to provide theatrical experiences which combine historic and scientific themes. Well-known actor, Wyn Bowen Harries who is directing the production says:
"William Buckley's life reads like a soap opera. His daughter married a pirate, his son died of alcoholism and his mother died falling under a ladder before being trampled by cattle! As a squire and JP his diaries provide a fascinating insight into rural life in Anglesey of the 1700s."
"We relate the highs and lows from the diaries, including his descriptions of trips to Ireland, fairs, cockfighting and scandals from the court at Beaumaris, where he sat as a Justice of the Peace. We'll also hear some of the songs he recorded, performed by Stephen Rees, from the University's School of Music, who is an expert in folk music from the period."
What may not be so different to today is the fascinating and priceless 30 year long record of the weather that William Buckley records daily. This unique record is now of interest to climate scientists. Scientists from the Climate Change Consortium of Wales are studying the diaries to learn how the weather patterns compare to today's weather and climate.
The piece will be performed again in the New Year, with the cooperation of Theatr Bara Caws. The company are also happy to hear from anyone else interested in hosting a performance between January 27 and February 14 next year.
Einion Thomas, Bangor University Archivist commented:
"This theatrical event is a great means of celebrating the achievement of an interesting project which presents the diaries on a platform available for all to browse and read. As well as making fascinating reading, they represent one of the most important pieces of documentary evidence available to the historian on life in eighteenth century Anglesey. The cooperation between the Archives, Llên Cymru, Cymdeithas Edward Llwyd and company, SueProof, has ensured that the diaries are accessible to all."
The performances are financed by Ynys Môn Council, Night Out, Arts Council for Wales, Cymdeithas Edward Llwyd/Llên Natur Magnox socioeconomic fund and the Climate Change Consortium of Wales (C3W).
E mail Duncan Brown at duncanbrown3@btinternet.com for further information.
Publication date: 4 September 2014