British Ambassador to China and Vice-Chancellor attend Opening Ceremony of CSUFT-Bangor University Joint Research Center & of Bangor College, CSUFT 2016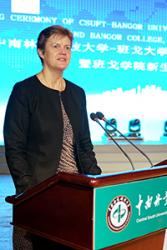 British Ambassador to China, Barbara Woodward, addressing atendees at the opening ceremonyBritish ambassador to China, Barbara Woodward and Vice-Chancellor of Bangor University, Professor John G Hughes attended the opening ceremony of CSUFT-Bangor University Joint Research Center & Bangor College, CSUFT 2016 in Changsha, China recently. Also present there were the British Consulate-General Guangzhou, HM Consul-General, Matthew Rous, Vice-Director of Foreign and Overseas Chinese Affairs Office of the People's Government of Hunan Province, Qiu Aihua, etc. The CPC General Secretary of Central South University of Forestry & Technology, Hu Changqing held the ceremony. Barbara Woodward, John Hughes and President of CSUFT, Liao Xiaoping delivered a speech respectively.
Barbara Woodward said, she was quite happy to be there at Bangor College: an historic partnership between Central South University of Forestry and Technology and Bangor University started in 2014 – the first UK-China joint higher education institution in Hunan Province. By working together on a joint curriculum in different disciplines, both Bangor University and CSUFT can together offer enhanced course options and access to top quality teachers and resources. She was delighted to learn that it was one UK-Hunan partnership which had been incredibly active. What made Barbara Woodward happy was that the British Council had shortlisted Bangor College China as one of the Educational Institutional Partnership of the Year 2016.
Barbara Woodward highlighted that she saw this kind of partnership to be key to a wider UK-China relationship, not just at an institutional level, but also at a people to people level, between teaching staff and students. The joint programme in Forestry and Environmental Management running in BCC will ensure that the next generation of British and Chinese scientists will be working together to combat global climatic challenges.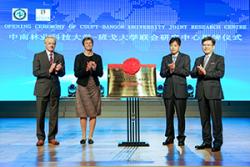 Professor John G Hughes, British Ambassador, Barbara Woodward, Prof HU Changqing, the Party secretary of CSUFT, Prof LIAO Xiaoping, president of CSUFT Professor John G Hughes said that a dedicated Bangor College offering full degrees in China was a first for the University. It's a strategically important project to Bangor and will last for decades. Together with CSUFT, Bangor University offers four programmes including BSc in Banking and Finance, BSc in Accounting and Finance, BSc in Electronic Engineering and BSc in Forestry and Environment Management. There had been 439 students registered with Bangor University from September 2016. Among them 63 students had chosen to transfer to Bangor this year to get some overseas study experience in UK. Once again, Prof Hughes emphasized that Bangor University's longer term ambition was to make BCC a study abroad centre for Bangor students, a real two way exchange to enhance the learning experience for all. The establishment of a new Joint Research Centre between two universities will further stimulate the research collaboration between two universities and help to develop the joint postgraduate and PhD programmes.
Liao Xiaoping pointed out that Bangor College had built an excellent international teaching team in the past two years. More than 60 teachers from Bangor University had been sent to teach students in Bangor College and have a visit to China. Apart from regular exchanges and cooperation, teachers from Bangor University has been interacting with teachers in CSUFT to conduct scientific researches and academic activities, which provided a solid foundation for the establishment of CSUFT-Bangor University Joint Research Center. After the speeches, Barbara Woodward, Qiu Aihua, Liao Xiaoping and Jone Hughes unveiled the nameplate of the center together.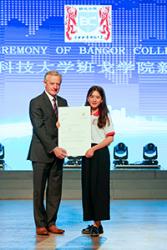 Professor John G Hughes presents a letter of admission to one of the students.Since 2014, Bangor College has achieved great achievements in teaching quality and talents nurturing and the students have been recognized by both sides. Therefore, John Hughes issued acceptance letters to Grade 2015 students who had been registered in Bangor University.
The last part of the opening ceremony of Bangor College, CSUFT 2016 was a fabulous art performance presented by teachers and students in both Bangor College and Music College of CSUFT.
Founded in 1958, CSUFT is key construction university supported by China's State Forestry Administration and People's Government of Hunan Province. It has been authorized to confer the doctor's degrees and the master's degrees and qualified to recommend students to exempt from the postgraduate entrance examination. It was marked as "EXCELLENT" in both the undergraduate teaching proficiency evaluation in Chinese Ministry of Education and the postgraduate cultivation process quality assessment in Hunan Province.
See also: https://www.bangor.ac.uk/news/university/the-launch-of-bangor-college-china-20331
Publication date: 28 October 2016