British Ecology Society Awards Bangor Lecturer
A lecturer at Bangor University's School of Environment, Natural Resources and Geography has been awarded the prestigious British Ecological Society's Founders' Prize for 2014.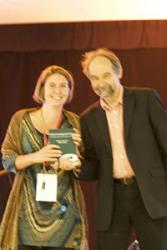 Julia Jones receiving the Award.On receiving the Award, which is awarded every two years to an outstanding young ecologist who is making a significant contribution towards the science of ecology, Dr Julia Jones was described as "an inspiration to young conservation ecologists, who has developed a novel and highly successful research programme which is breaking new ground in monitoring conservation outcomes as well as understanding incentives to conserve".
Julia is interested in how people interact with natural resources and how incentives can be best designed to maintain ecosystem services while also having a positive impact on local livelihoods. She also has a strong interest in the design of robust conservation monitoring using different types of data, and in analysing the evidence underpinning environmental policies and decisions.
On receiving the Award, Julia Jones said: "In my research I use methods and theory from a range of disciplines (including economics, education and psychology) and apply them to challenges in environmental management. However my disciplinary background and natural intellectual home is ecology, so to have this recognition from the British Ecological Society is a real honour".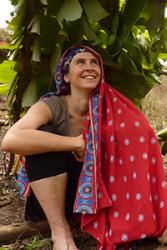 Julia Jones during field-work.A senior lecturer in conservation biology, it was Julia's PhD at the University of Cambridge looking at the sustainability of crayfish harvesting in Madagascar which led to a lifetime interest in interdisciplinary research: integrating social science and ecology. Julia is currently leading a project looking at how global ecosystem service schemes can best be designed to reduce poverty. This is a large consortium project funded by Ecosystem Services for Poverty Alleviation. She has a new grant which uses a Randomised Control Trial of a water-based payment scheme in Bolivia to explore how such schemes can contribute to local welfare benefits and broader environmental benefits. Julia is course director for Environmental Conservation and Applied Terrestrial and Marine Ecology at Bangor University.
Publication date: 16 December 2014