British gardeners can now grow really tasty, outdoor-grown tomatoes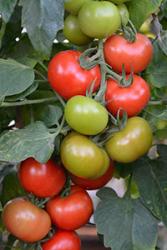 The Crimson Crush tomatoes soon to go on sale in the UK.From next year, British gardeners will be able to buy blight- resistant tomato plants that will grow outside. Developed in conjunction with Bangor University, the tomatoes are far better than any previously available.
It's been nigh on impossible to grow tasty tomatoes outdoors in the UK- the wet summers of recent years have seen tomato blight decimating any attempts
Bangor University has been working with not-for-profit organisation, the Sárvári Research Trust, and experienced tomato breeder, Simon Crawford and his company, Burpee Europe to develop the new hardy variety under a Knowledge Economy Skills Scholarships (KESS) Programme.
The successful results have led to the new tomato, now marketed as Crimson Crush, which will be available from Suttons Seeds in the New Year.
The research involved looking for gene(s) that originated from wild tomato plants which had resistance to blight and making crosses to transfer them using non-GM selection methods. Identifying and selecting the molecular markers responsible for the traits sought has speeded up the selection and development of the new plant, to produce a commercially viable new variety of hardy tomato which produces good quality fruit but has natural resistance to late-blight.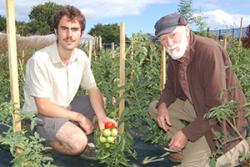 James Stroud (left) a Bangor University KESS PhD student and David Shaw of the Sárvári Research Trust survey some of the outdoor- grown tomatoes used during the project. James Stroud the PhD student said: "It's great to be working towards the creation of a marketable product, a product that will grow well outdoors in Wales and will therefore provide farmers and growers with a high value crop."
"The skills that I've developed will be applicable to a wide range of employment opportunities. It's been a delight to get real results from my trials and have them used as part of the breeding programme.
According to David Shaw, Director of the Sárvári Research Trust, based at te University's Henfaes Research Centre at Abergwyngregyn in Gwynedd:
"Outdoor grown tomatoes, when you can grow them, are delicious and tasty as they've grown in direct sunlight. This new hardy variety of blight-resistant tomato can be grown locally by gardeners, allotment holders and market gardeners even in our wet climate. They tick all the boxes for high quality, sustainable, low- input and locally grown food."
Under the KESS scheme, James Stroud has been working with the Trust and a University academic supervisor, Dr Katherine Steele of the University's School of Environment, Natural Resources & Geography, while also gaining valuable research & development skills.
Katherine Steele said:
"This project will help us to better understand blight-resistance in tomatoes, allowing breeders to produce better outdoor varieties for gardeners and growers. This project is one example of our work to provide a scientific basis for sustainable agriculture, forestry and the conservation of natural resources."
David Shaw commented:
"Working with Katherine Steele has allowed us to tap into her cutting edge, crop breeding skills. She is training James in the latest molecular techniques to identify genes and to fingerprint the blight organism. This has been paramount to the success of the project."
The Sárvári Research Trust have already successfully developed seven new types of blight free potatoes.
James Stroud's research scholarship is funded under the Knowledge Economy Skills Scholarships (KESS) Programme. KESS is a major European Convergence programme led by Bangor University on behalf of the HE sector in Wales. Benefiting from European Social Funds (ESF), KESS supports collaborative research projects (Research Masters and PhD) with external partners based in the Convergence area of Wales (West Wales and the Valleys). Both the Research Masters and PhD elements are integrated with a high-level skills training programme, leading to a Postgraduate Skills Development Award. The current KESS funding ends in 2015 and has provided over 400 PhD and Masters places.
Publication date: 16 December 2014