Britta gains First in Cancer Biology
A hard working student has graduated with a First Class Honours degree after a memorable three years at Bangor University.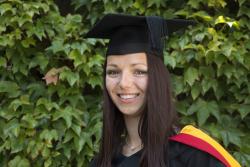 Britta Ismer

Britta Ismer, 21, originally from Germany, graduated this week with a First Class degree in Cancer Biology.

Britta, a former Abbey College Ramsey student, moved to Cambridgeshire when she was 16 to study for her A Levels but ended up staying in the UK and moving to Bangor to study.

Britta said: "It feels weird to be graduating. When I moved into the Halls of Residence three years ago, I thought I had such a long time at Bangor ahead of me but I just don't know where the time has gone!

"I first came to Bangor on an Open Day, because my tutor at College told me about it. When I had a look at the courses I liked the sound of Cancer Biology, because I knew later in my career I want to be able to help people in some way. Once I actually got to Bangor I feel in love with it and that was my decision made.

"I always worked part-time during my time at Bangor - bar work, helping out at Open Days and being part of the Alumni telethon team. I even featured in the Bangor prospectus for 2014/15, which will be a great reminder of my time at Bangor and had my 'Top Tip' printed in the Guardian through my work at the Student Recruitment Unit - once you get involved in working with the team and you do a great job then you can be a part of so many things, which is great!

"I was also lucky enough to be awarded one of the Undergraduate Internships that the University offered at the start of my second semester. Mine was based in the Development and Alumni Relations Office and I had a great time. I got to see what it's like to be behind the scenes, working on Bangoriad, the Alumni magazine, and how important it is for the University to keep in touch with its Alumni. It was great fun and definitely improved my employability skills. I even received the Bangor Employability Excellence Award for my participation in the Bangor Employability Award."

Bethan Perkins, Alumni Marketing Officer, said: "Britta worked as our Development and Alumni Relations Intern for three months as part of the Bangor Employability Award Internships. She was a great asset to the team and helped us with a variety of projects, including taking part in several events where she met (and impressed!) a number of our alumni. The internships are a great boost to students' CVs and we were thrilled to have Britta as part of our team."

Britta has also been nominated for the Student Employee of the Year Awards, which aim to recognise and promote the outstanding contributions and achievements of students who combine part-time work with their study commitments. She said: "This award means a lot to me, because not very many people get it. Apparently I am the first winner for Bangor for a few years so I am honoured. I am looking forward to the ceremony and I am very grateful to Bethan for nominating me. It shows that you can get very far by just being yourself."!

Britta also had time to get involved with some of the clubs and societies offered by Bangor's Students' Union. She added: "I have also been involved with several projects with Student Volunteering Bangor (SVB) and was a member of the Athletics Club. Being part of a society and club absolutely made my three years, it was the best decision because I made the best friends through athletics and SVB.

"The highlight of my time at Bangor was definitely getting my Fist Class degree after three years of hard work and of course my actual graduation tops even that!

About the future, Britta added: "I am currently applying for different Masters courses back home in Germany and I am hoping to do my PhD afterwards before I work in some sort of research laboratory. I don't mind what kind of research I am going into yet, because there are a few aspects which I really like.
Publication date: 12 July 2013