Bronze for Ben in Hill Climb Championship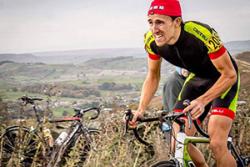 Ben Butler beat his personal best to cycle up the mile-long hill in just over five minutes. Ben Butler, a final year PhD student from the School of Ocean Sciences, claimed bronze at the British Universities Hill Climb Championship on Saturday 24th October.
The event saw nearly 200 student cyclists from across Britain tackle the notoriously hard climb up Curbar Gap in the Peak District. The road has an average gradient of 11% over 1 mile, making it a truly testing effort for all of the participants. Riders were set off individually at 1 minute intervals to set their best time up the climb.
Knowing that this event would be his last opportunity to represent Bangor University before graduating, Ben dedicated an entire year to training specifically for the intense 5 minute effort required.
Ben says, "Having had decent results over the past 4 years at the BUCS Hill Climb, I wondered whether, with the right preparation, I could have a chance of winning a medal in my final race as a student. Over the past year I increased my training to around 200 miles per week, and since May I really concentrated on my diet which resulted in me losing 10 kg. The final piece of the puzzle was to make sure my bike was as light as possible… which included finding the lightest components and removing anything unnecessary".
Ben's hard work paid off, he climed the hill in 5 minutes .22.13t seconds, resulting in a third place at the Championship behind Sheffield's Kieran Savage and Warwick's Jack O'Neill. "The tail-end of the event was really nail-biting. I was sitting in second place with over 60 riders still left to go, so I had to watch the live results come in and just hope that I didn't get knocked off the podium. In the end I was absolutely over moon to come away with a medal", he said.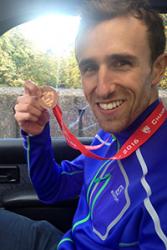 Ben with his bronze medal.With 5 months left before completing his PhD in Marine Geochemistry, Ben will now take a back seat from training in order to concentrate on his thesis. He adds, "If anything, this has taught me how attention to detail and hard work do eventually pay off, which is something I hope to apply to my writing over the next few months".
Asked why he chose to study at Bangor, Ben said: "I chose Bangor University because of its excellent reputation and the outstanding outdoor resources that North Wales has to offer. I was quickly enticed into starting road cycling by the breath-taking mountain and coastal roads that sit on Bangor's doorstep. The University helped me fulfil my ambitions in cycling by firstly encouraging me to set up a Road Cycling Club in 2011, and then backing my performances in races with awards that included bursaries and sports scholarships in subsequent years. The University and Students' Union here really appreciate the value of sport in the students' experience and development, which is certainly something that has enriched my time spent studying in Bangor."
Full results from the event can be found here: http://my6.raceresult.com/45887/results?lang=en#0_E9BB5B
Publication date: 30 October 2015