Business students tackle Bangor's waste problems through 'Junk Genie' Campaign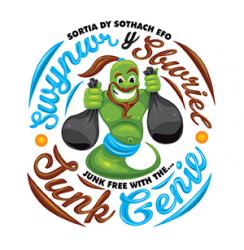 Bangor Business School students have been involved in developing an end-of-term campaign to reduce waste problems in Bangor.
The Junk Genie campaign where partners will work together to tackle the annual problem of end of term waste of rubbish spilling on to the street and other public places, has been developed and will be led by Masters students from the University's Business School in conjunction with Gwynedd Council. The student-led campaign uses a humorous and light-hearted character the 'Junk Genie' to raise awareness of the need to dispose of rubbish and recycling responsibly.
Gwynedd Council is playing its part in the campaign by mounting street collections to tie in with the 'Junk Genie' campaign. The Council will be focusing on collecting student rubbish to improve the local environment at a time when end-of-term rubbish can build up and spill out over streets. The Bangor Junk Genie will come to Bangor on 2nd, 9th and 16th of June with students being asked to put out their extra rubbish on these specially designated days when clearing out of their accommodation. As part of the campaign there will also be a student litter pick held in Bangor on Wednesday the 28th of May in conjunction with Student Volunteering Bangor.
Business student, Sebastien Combret, said: "Working on the 'Junk Genie' campaign has been a valuable experience and has given us a real marketing challenge. We were given the opportunity to develop our own ideas on how to create awareness about the end of term recycling and waste collections, and decided to use social networking, e-mail marketing, screensaver advertising and a student photo competition to create a buzz around a fun concept."
Publication date: 27 May 2014