CALIN – New Life Science Innovation Network for Welsh and Irish businesses launched
Bangor University's School of Chemistry is delighted to contribute to a newly launched life-sciences network.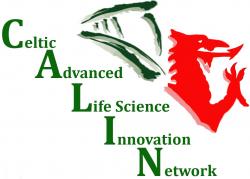 The new €11.96M EU-funded Ireland-Wales life science network was given the green light by Finance Secretary Mark Drakeford.
The Celtic Advanced Life Science Innovation Network (CALIN) collaborative programme aims to connect Small and Medium-sized Enterprises (SMEs) with world-leading Higher Educational Institutions including Bangor, Cardiff and Swansea Universities in Wales, and University College Dublin, The National University of Ireland Galway and Tyndall National Institute, University College Cork in Ireland.
Focusing on Precision Medicine (diagnostics, devices & therapeutics), Regenerative Medicine, and Bio-Compatibility & Safety Evaluation, CALIN will engage with businesses to support advanced life science product development through collaborative R&D.
CALIN offers open access to a unique strategic international partnership between six world-class universities in Wales and Ireland, and Global Healthcare Leaders Unilever and GE Healthcare. Through CALIN Welsh and Irish businesses will have access to a powerful knowledge base and technological infrastructure enabling accelerated innovation, and access to a network of key stakeholders including those involved in supply chains, route to market and end-user healthcare providers.
CALIN's aim is to drive smart sustainable growth in Advanced Life Sciences in both Wales and Ireland, by undertaking a large number of collaborative R&D projects, and through these generating new jobs and attracting investors into the cross-border regions. All R&D activities will include a collaborative partnership between an SME and both an Irish and a Welsh University over a 1-3 year period depending on the nature of the development programme.
The network will offer R & D, technological development and innovation support to SMEs, which will drive the international competitiveness of both regions. Together the internationally recognised centres of excellence will foster long-term cross-border research and industrial partnerships, building a platform of excellence for wider interactions and Europe and beyond.
The Welsh Government's Finance Secretary Mark Drakeford said: "Life science is a key sector in Wales and Ireland and this funding will support research and development, which is vital to the creation of new products, technology and jobs.
"It is excellent news for more than 240 small and medium-sized businesses and I'm delighted that expertise in the participating universities will be shared and used across both our countries.
"Irish Minister for Public Expenditure and Reform Paschal Donohoe said: "The Ireland-Wales programme shows how EU funding can contribute to successful cross-border cooperation – in this case across our maritime border with the UK. The CALIN project is an excellent example of how it supports research and development in universities for the benefit of enterprises of all sizes, leading to new jobs and further investment in new technologies.
"This announcement shows funding under the Ireland-Wales programme is going ahead and that programme beneficiaries can plan for the future with confidence. The Irish Government strongly supports the programme and is committed to its successful implementation."
CALIN diagnostics lead from Bangor University Dr Chris Gwenin said: "This is an excellent opportunity for Bangor to extend our expertise in the medical diagnostic field and to work closer not only in Wales but also in our fellow Celtic Irish Region". Bangor's Dr Leigh Jones who is traditionally an inorganic chemist is looking forward to broadening his horizons by actively supporting the project. He said: "I look forward to bringing my own ideas to this exciting new research chapter."
Dr Stephen Barnwell, European Open Innovation Manager, Unilever, said: "CALIN will provide a unique opportunity for businesses to work with institutes across both Ireland and Wales. This pool of world-class expertise will promote exciting business opportunities by enabling engagement with a broad knowledge network offering combined research and innovation expertise. This is an exciting initiative, promising great benefits to the health and life science commercial sectors of both countries."
CALIN hopes to engage and assist over 240 enterprises throughout Wales and Ireland and interested SMEs should contact Dr Chris Gwenin c.d.gwenin@bangor.ac.uk for further information.
Publication date: 28 November 2016