Can plants replace oil derived compounds?
With the ever increasing price of oil and the global depletion of fossil fuel supplies, Bangor University is responding by pioneering research into the extraction of useful compounds from everyday plants. It is hoped that this work will provide the next generation of bio-products and fuels, and perhaps even reduce our dependence on oil.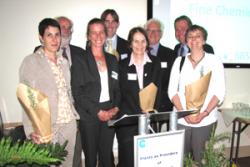 l-r:Claire-Marie Grizaud, Sederma;Prof Mark Baird, Dr Vera Thoss, both School of Chemistry, Andrew Gallagher, Phynova; Prof Monique Simmonds, Royal Botanic Gardens, Kew; Prof Ed Kosier, Nextec; Dr Rob Elias, Biocomposites Centre, Dianne Irwin, Syngenta. In order to highlight recent developments in this field Bangor University hosted the second 'Plants as Providers of Fine Chemicals' conference. The School of Chemistry welcomed experts in the field of plant biorefining and featured a keynote address by Professor Monique Simmonds FRES, Deputy Keeper of the Jodrell Laboratory and Head of the Sustainable Uses of Plants Group, Royal Botanic Gardens, Kew.
Bangor University already works in partnership with a number of local businesses who work in this industry, and who attended and presented their current work to the conference. Publicising this work via a conference also highlighted other opportunities for collaboration that exist in this exciting cutting-edge area.
An example of one such collaboration is between Superfix Supplements ltd and the School of Chemistry. As a result of this three year collaboration the quality control of Superfix Supplements ltd's products was improved resulting in greater confidence from their customers.
The most challenging aspect of this field is to identify native plants containing the biologically active compound(s) in order to widen plant source material and make the supply chain more resilient.
The conference was organised by Dr Vera Thoss, an academic at the School of Chemistry, and highlighted the recent advances in plant chemistry and in particular the application of purified compounds extracted from plants used as plant protection agents, cosmetic ingredients, pharmaceuticals or other industrial applications.
Posters presenting scientific research were also presented at the conference. The prize for the best poster went to Mohammed Elahmar, a PhD student at Bangor University. The Poster described his work on extracting fine chemicals from gorse.
For more details on the conference programme and to view the presentations check out the Conference web site.
Publication date: 4 September 2012