Capitalism- on the Brink??!! Lord Davies, former Standard Chartered Bank Chief Executive speaks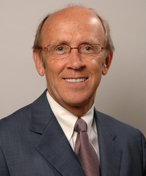 Lord Davies of Abersoch, CBE Lord Davies of Abersoch, CBE will deliver a thought-provoking Public Lecture at Bangor University's Main Arts Lecture Theatre at 6.30 p.m. on Thursday, 11 October 2012. The Lecture, presented by Bangor University in conjunction with the Menai Branch of the United Nations Association, is free of charge.
Lord Davies, who is also Chair of the University's governing body (the Council), is eminently qualified to discuss capitalism and the world of commerce, banking and finance. He is a distinguished international banker, having served as Chief Executive of Standard Chartered plc (2001-06) and as its Chair from 2006-09. He was also UK Minister for Trade, Investment and Small Business, from January 2009 to May 2010.
In his lecture, Lord Davies will focus on the lessons that need to be learned from the economic crisis. He said: "We came close to the edge, and now there has to be a readjustment in our value system."
Lord Davies is currently Vice Chair and Partner at Corsair Capital, a private equity firm specialising in financial services, and non-Executive Chair of asset management company, PineBridge. In 2011 he chaired a public review for the Government of the role of Women on Boards of UK companies. He has also been a non-executive Director of various organisations, including Tesco PLC (2003-08) and Tottenham Hotspur FC (2004-09). Lord Davies has also chaired the Generations Appeal from Breakthrough Breast Cancer, and is a Trustee of the Kyffin Williams Trust.
Publication date: 8 October 2012