Capturing nature's wealth to reduce poverty
Researchers from Bangor University will lead a £2 million project to investigate whether international schemes that pay people in low income countries to protect globally important habitats can reduce poverty.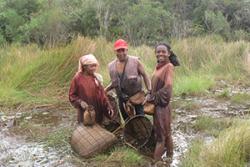 Millions of people around the world are heavily reliant of ecosystem Services provided by forests and other habitats for their livelihoods.: Photo credit: Madagasikara Voakajy Dr Julia Jones, the project leader and senior lecturer in the School of Environment, Natural Resources and Geography at Bangor University, said: "When you book an air ticket you may be given the opportunity to offset the carbon produced by the flight. This money is increasingly going towards schemes which aim to reduce deforestation in low income countries.
"Working in Madagascar, we will be looking at how this money can be used to ensure the best possible outcomes in terms of local people's livelihoods, while also ensuring the carbon is indeed locked up long-term and doesn't contribute to climate change."
The funding comes from the Ecosystem Services for Poverty Alleviation (ESPA) programme, a £40 million initiative from the Department for International Development, the Economic and Social Research Council and the Natural Environment Research Council.
Dr Morag McDonald, Head of the School of Environment, Natural Resources and Geography said: "We are delighted that this important project has been funded. It builds on our school's established reputation in tropical ecology, land use and international development."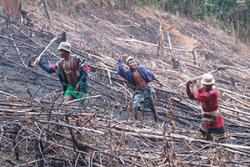 Clearing the forest for agriculture has short term benefits to the farmer: Photo credit: Neal Hockley
'The three year project 'P4GES: Can Paying 4 Global Ecosystem Services reduce poverty?' involves a consortium of institutions in the UK, Madagascar, the Netherlands, and the USA. Professor Bruno Ramamonjisoa from the University of Antananarivo in Madagascar, one of the project's leaders, said 'Madagascar is a very poor country with millions of rural people heavily dependent on natural resources. This research will help ensure funds from international ecosystem payment schemes make a real difference to people's lives'.
The project also highlights growing links much closer to home - between Bangor and Aberystwyth Universities. Prof Mike Christie of the School of Management and Business at Aberystwyth University, said: "The Aberystwyth-Bangor Strategic Alliance allows us to draw on the complementary skills of researchers at the two Universities. This project provides another demonstration of how this alliance helps us win major funding in an increasingly competitive research environment."
Publication date: 4 June 2013