Care home supports student nurse education
A care home in Colwyn Bay is leading the way in helping to educate new nurses working along experienced staff providing professional excellence in looking after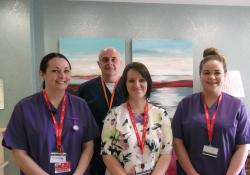 Student nurses Jennifer Griffiths, (left) and Charlotte Brown (right) with Eleri Williams, Deputy Manager and Mark Aldred, Senior Nurse at Merton Place in Colwyn Bay.residents.
Merton Place in Pwyllycrochan Avenue, Colwyn Bay, is managed by Clwyd Alyn Housing Association, part of the Pennaf Housing Group, and last month the first two student nurses joined the team on work placement as part of their three year undergraduate nurse training studies at Bangor University.
Jennifer Griffiths, and Charlotte Brown, are both in the first year of their BN degree course with Jennifer concentrating on adult care and Charlotte specialising in the field of mental health.
Eleri Williams, Deputy Manager at Merton Place who has helped to coordinate the placements said: "It is excellent that Merton Place meets all the University criteria as an educational placement and we're delighted to be able to offer a diverse range of experience under the supervision of our senior staff.
"We are able to offer students a two week placement time covering different shifts as an integral part of their studies and we are looking forward to welcoming further first-year students in the future.
"We are a purpose-built 54-bed care home looking after residents with a wide spectrum of care needs and it is excellent that specialist care for older people in a care home setting can now be incorporated into the education of a new generation of nursing professionals for the future."
Student nurse Jennifer Griffiths said she really appreciated her time at Merton Place: "It has been a lovely experience and Senior Nurse Mark Aldred has been eager to teach. The time I have spent here has shown me a different side of nursing with the complex needs of the residents, and has given me the opportunity to learn clinical skills.
Professor Jo Rycroft-Malone, Head of the School Of Healthcare Sciences at Bangor University, said:
"We're delighted to be working with Merton Place. The School is the sole provider of pre-registration nurse education in North Wales and we are grateful to have the partnerships that enable our students to gain meaningful placement experiences that ensure they are prepared to meet future healthcare challenges. We are grateful to Merton Place for making a significant contribution to the education of our 1st year student nurses."
Publication date: 19 May 2015