Celebrating Anglesey at the Houses of Parliament
Dr Edward Jones, Lecturer in Economics, recently attended a special event to celebrate the economic, social and cultural life of Anglesey, the 'Mother of Wales'.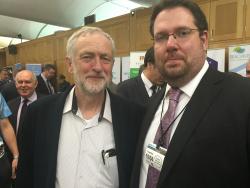 Dr Edward Jones (right) meets Jeremy Corbyn at Anglesey Day 2016 earlier this month
Anglesey Day is an annual event held at the Houses of Parliament to mark the big contribution of this small island.
Dr Jones, representing Bangor Business School, was one of 120 attendees invited from businesses and public institutions on or serving the island.
The event gave him the opportunity to meet and talk with representatives from a number of Anglesey's upcoming economic ventures, including Horizon Nuclear Power and Orthios, who are developing a billion-pound biomass plant on the island.
He also met parliamentarians from across the country, including Jeremy Corbyn, Leader of the Opposition, as well as Welsh actor Julian Lewis Jones, an Honorary Fellow of Bangor University.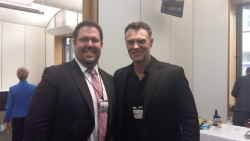 Dr Jones also met Welsh actor Julian Lewis Jones
Publication date: 27 April 2016