Celebrating the Employability of Bangor University Students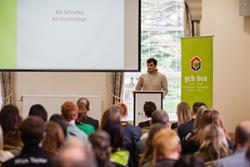 Guto Gwilym, School of Psychology, one of the student presenters.The annual Employability Celebration evening was held recently to congratulate and showcase Bangor University students who have taken part in the Bangor Employability Award and demonstrated exceptional commitment to developing their employability through extra- and co-curricular activities whilst at University.
The event, which was attended by staff, students and employers, was an opportunity to award 9 BEA Excellence Awards to students nominated by their academic schools for having taken positive steps to improve their employment prospects after graduating this summer.
Congratulations to the award winners: Marta Napodano (English), Ryan Jacques (Computer Science), Stephanie Freeth (Law), Sally Breese (Education), Leo Johnson (Ocean Sciences), Jodie Colk (Psychology), Ben Price (Sports Science), Faith Jones (SENRGy) and Emily Wilde (Music).
The evening was also an opportunity to award the Santander Universities Excellence in Enterprise Award to Bogdan Pop from Bangor Business School, for having achieved the highest number of XP for enterprise and innovation activities in the BEA.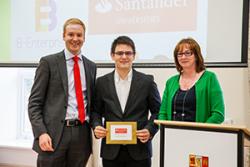 Bogdan Pop (centre) receiving his Santander Universities Excellence in Enterprise Award from Luke Ellis, Relationship Director at Santander Universities, and Lowri Owen, Enterprise Projects ManagerFive of the students completing the BEA this year gave interesting and diverse presentations about their experience of developing their employability at University. Sarah Stokes (Psychology), Bogdan Pop (Business), Guto Gwilym (Psychology), Faith Jones (SENRGy) and Zack Zeiger (Psychology) spoke about experiences ranging from volunteering, taking part in the BEA internship scheme, enterprise competitions, international experiences and their preparation for graduate recruitment procedures.
The guest speaker at the event was Iwan Thomas from the North Wales Economic Ambitions Board, following his contribution to a prior University event bringing together energy sector employers and students, earlier this year. Iwan spoke about the current and future opportunities available for graduates in North Wales and highlighted the positive economic impact of recruiting students and graduates.
John Jackson, BEA Manager, said "The event has been a real success. It was great to see so many different stakeholders present to support the students and the BEA initiative. Hearing the students present themselves, and what it all means to them, helps reinforce the importance of taking control of your employability at University, and how crucial it is that the BEA is flexible so that students can tailor it to themselves."
See the full album of photos on the Bangor Employability Award Facebook page:
Publication date: 26 May 2014