Celebrating triumph against the odds at House of Lords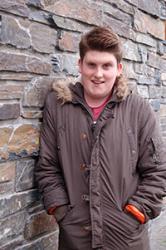 Macauly GatenbyA Bangor University student who has received a helping hand from the Helena Kennedy Foundation took part in a special celebration at the House of Lords recently.
Macauly Gatenby, 19, from Portsmouth, is currently studying for a BSc Zoology with Conservation degree at the School of Biological Sciences. He was awarded a bursary of £1500 from Helena Kennedy Foundation to help towards the costs of university study, and will also receive on-going guidance and training from the Foundation.
Macauly, who is partially deaf and has dyslexia, will use the money towards his living costs as well as to buy a laptop to help him with his studies. He was nominated for the award by staff at Sparsholt College, where he previously studied – in recognition of his determination to succeed in his chosen area of study.
Macauly said: ''Being on this course has made me more inspired to look at other careers within the field of Zoology other than my initial career choice of Primatology. Bangor University is an excellent university with many professionals in a variety of fields so the quality of teaching is always of high standards. Along with this Bangor is situation in a prime area for amazing field trip, allowing for a deeper understanding in some modules''.
The House of Lords celebration brought together 104 students from disadvantaged backgrounds who have progressed from FE colleges.
The Helena Kennedy Foundation was set up in Baroness Kennedy's name over 15 years ago to take forward the findings of her seminal 'Learning Works' report. Speaking at the event, Baroness Kennedy said: "Our Bursary holders are truly inspirational people and it is an honour to witness and support their rise to success. I am delighted to have presented these students with one of our awards in acknowledgment of their achievements at university. Life is all about learning new things; each awarded student has shown fortitude and determination in taking the next step in their life."
Publication date: 3 April 2014