Celebration of nursing excellence in north Wales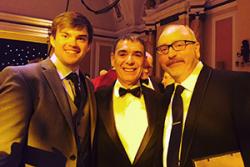 L-r: Steffan Roberts, Dr Malcolm Godwin and Prof Christopher Burton at the Awards Evening.Excellence in nursing in North Wales was acknowledged recently at the Royal College of Nursing in Wales 2015 Nurse of the Year Awards. Finalists in three of the award categories came from Bangor University's School of Healthcare Sciences.
Steffan Roberts was awarded the title 'Student Nurse of the Year' in recognition of his commitment and contribution to quality and patient safety. Steffan has now completed his nursing degree, and is working as a Staff Nurse in Cardiff. The School is looking forward to welcoming back for his graduation ceremony next summer.
Dr Malcolm Godwin, Deputy Head of School (Teaching and Learning) won the award for 'Nurse Educator of the Year'. As an expert in nurse education, Malcolm has led improvements in the education and training of nurses locally, and across Wales and England, whilst delivering excellent support for students and colleagues in the local NHS.
Professor Christopher Burton, Deputy Head of School, was a runner-up in the Nurse Researcher award category. Chris has a considerable international programme of research in stroke care and rehabilitation which aims to improve the evidence-base for patient care.
The Royal College of Nursing in Wales Nurse of the Year Award scheme provides an opportunity for nursing peers and colleagues to celebrate those that have made a difference, and go the extra mile in working to secure positive patient care.
Head of School, Professor Jo Rycroft Malone, commented "I am delighted that the contribution that the staff and students of the School of Healthcare Sciences make to excellence in nursing and nurse education has been recognised in this way. These awards provide an opportunity to celebrate all those students and nurses who aspire to and deliver excellence in healthcare education, research and clinical practice".
Publication date: 20 November 2015