Centre's pioneering research helping to shape future strategy for ageing in Wales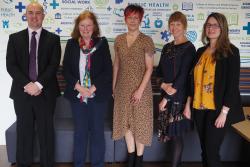 Swansea University Registrar Andrew Rhodes, Deputy Minister Julie Morgan, Professor Vanessa Burholt, Director of CADR and Associate Directors of CADR Professor Gill Windle, of Bangor University and Dr Rebecca Sims, from Cardiff University.A ground-breaking research centre – the Centre for Ageing and Dementia Research - led by Swansea University, with Bangor and Cardiff Universities, is set to play a key role in shaping the future care of older people in Wales.
Deputy Minister for Health and Social Services Julie Morgan said: "The work that CADR is doing around ageing is absolutely crucial, and the Welsh Government is very committed to working in this area."
Speaking during a fact-finding visit to the Centrey, she said:
"With so many people living so much longer, obviously we want them to be able to have a good, healthy time. Research does show that the last few years of people's lives are not always healthy."
Describing the centre's work as marvellous, she said:
"It will help the Welsh Government to determine a strategy not only for ageing but for loneliness and isolation."
CADR members explained how they involve the public to ensure that Centre's research addresses the needs of older people, people with dementia and carers. Working with policy makers and practitioners CADR's research is used to improve services for older people in Wales.
The Deputy Minister said:
"One of our ideas behind devolution was to bring policy-makers and practitioners closer to the people, and I think that this has been one of the great successes of devolution, that we are able to communicate."
As a member of the Welsh Government's cross-party group on dementia, Mrs Morgan is involved in discussing issues facing people living with dementia in Wales and recommending improvements.
Established in 2015, CADR is a collaboration between Swansea, Bangor and Cardiff Universities. A world-class research centre, the centre brings together scientists with expertise in genetics, psychology, social science and social policy to address key questions on ageing and dementia.
Professor Burholt of Swansea University said:
"CADR is shaping a new breed of interdisciplinary researchers with new visions for future scientific challenges.
"We have been able to create research partnerships and collaborations with the NHS, government, industry and the third sector, resulting in tangible benefits to health, wellbeing and independence in later life."
Prof Gill Windle, Associate Director of CADR and Professor of Ageing and Dementia Research at Bangor University said:
"It was great to be able to share some of our work at Bangor on ageing and dementia with the Minister. The meeting went well and the Minister was very interested in our research."
Following Mrs Morgan's visit the Centre hosted an open event aimed at raising awareness about its work and latest research.
The centre highlighted current opportunities for the public to get involved in CADR such as joining the Advisory Board or helping develop and steer research on ageing with a disability, hospital discharge information, Welsh language in care contexts, and dementia and continence issues. CADR is also eager to recruit new volunteers for its Lay Members Group which ensures research findings and reports are written in clear English.
Publication date: 13 May 2019