Chemistry success for local graduate
A former Ysgol Tryfan student is delighted to be graduating after three years of hard work this week.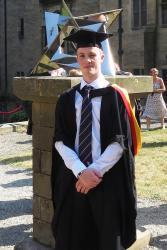 Toby Ellis
Toby Ellis, 23, from Tregarth graduated with a BSc Chemistry degree this week, ten years after his mother, Sarah Tomlinson, graduated with a degree in English Literature, both from Bangor University.
Toby began his higher education at Birmingham University; however, he didn't really enjoy his time there. As there was a university on his doorstep, he transferred to Bangor University's School of Chemistry for his second year and never looked back.
Toby said: "I've really enjoyed my time at Bangor, there was a fantastic group of students in my year.
"In my third year I really enjoyed my computational chemistry project. I didn't really expect to be using computers to simulate how chemical reactions occurred, but it was a great part of the course.
"Bangor University offer great support to its students, I'm really grateful to my Personal Tutor, Lorrie Murphy, who gave me the support and confidence needed to succeed.
"I took part in the University's B-enterprising scheme, where I got the opportunity to set up my own t-shirt company and sold them at the University's Christmas Market as well as some local fairs. This gave me some invaluable experience of how a business works.
"After I gained some work experience through the University, I've now got a job at Cwm Harry Land Trust working as a lab technician, utilising the skills I've learnt during the last three years."
Publication date: 19 July 2013