Chinese New Year Reception 2013 Hosted by the FM and the Chinese Ambassador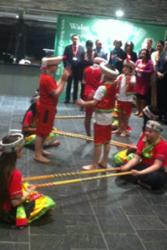 Dr Wei Shi, the Director of the Confucius Institute at Bangor University, was among those invited to attend a Chinese New Year Reception in the Senedd Building of the Welsh Government in Cardiff recently. First Minister of Wales Rt Hon Carwyn Jones AM and His Excellency Liu Xiaoming from the Chinese Embassy welcomed around 200 guests from across Wales. The Chinese New Year this year was on 10th February, which is the Year of the Snake.
The Chinese Ambassador gave a complementary speech. This was followed by a Chinese Lion Dance, after which pupils from Lansdowne Primary School in Cardiff performed a traditional Bamboo dance.
During the reception, Dr Shi met Professor David Boucher and Dr. Thomas Jansen, Directors of Confucius Institutes in Cardiff and Trinity St David universities- another two Confucius Institutes in Wales. Dr Shi also had warm conversation with John Whalley, the Chief Executive of Aerospace Wales, and his colleagues who were very interested in building links with the Confucius Institute in Bangor University.
Publication date: 22 February 2013