Climbing Challenge for Son's Memorial Fund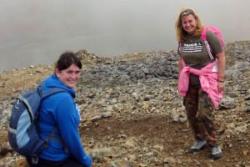 Emma (left) and Hazel on the summit of Snowdon.Hazel Frost, a Clerical Assistant at the School of Psychology, Bangor University, along with her friend Emma Wynne-Hughes, an administrator at the Bangor Business School are preparing for their toughest fund-raising challenge so far. On 29th July, Hazel and Emma will begin their trek up Kilimanjaro via the Machame Route, and aim to summit its 19,340 foot peak on the 3rd August.
The pair are raising money for the Darren Rhys Frost Memorial Fund and Hope House. Hazel's son, Darren, tragically lost his life in an accident in 2009. Darren's main passion was skateboarding, however Bangor lacked such facilities. A group was established to campaign for a Skatebowl in Bangor, and during the last couple of years, Hazel, along with Darren's friends and University students, has taken part in many events raising nearly £15,000.
Hazel said "The Skatebowl has hopefully given the youngsters in Bangor, Darren's hometown, somewhere to go and have fun. I'm thrilled that the Council are going to continue helping the Darren Rhys Memorial fund by allocating more land for further skateboarding activities and help with future projects".
The first skate park in memory of Darren was opened in 2011 and Hazel has continued her fund-raising efforts and now a second new skate park has been built in Bangor on Caernarfon Road, official opening on the 15th July 2012.
"It's just fantastic there's another skate park in Bangor and another facility for youngsters because there's been so little for them," she said "It's a different type of park with ramps and paths rather than a bowl, it will be better for the younger skaters."
"Training for Kilimanjaro is going well again after a knee injury set me back by a few weeks. We've also done extreme heat/cold training on an inclined treadmill in a chamber in Bangor University's sports science lab and altitude training in the same lab, both went really well." She added.
Hazel also took part in the Olympic flame relay through Bangor on 28 May 2012.
For anyone wishing to donate, there are two ways in which to do so; to donate to the Darren Rhys Memorial Fund, email hazel.frost@bangor.ac.uk or e.wynne-hughes@bangor.ac.uk to fill in their sponsorship form or to donate to Ty Gobaith, go on-line to Just Giving.
Publication date: 31 July 2012