Codi'r To music project brings harmony to homes and social value to schools and communites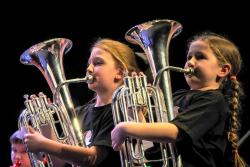 A performance by Codi'r To members.An economic evaluation of the value of Sistema Cymru - Codi'r To, a musical initiative in two schools in Gwynedd, reveals that the value of the project extends far beyond the playing of musical instruments and has brought a greater harmony to many of the households involved.
The Social Return on Investment (SROI) analysis conducted by Bangor University's Centre for Health Economics & Medicines Evaluation (CHEME) placed monetary values on all aspects of the benefits deriving from Codi'r To activities with pupils in the two schools and found that every £1 spent generates a social value return of £6.69.
Of 50 parents interviewed, 92% of the parents agreed that their child's confidence had increased and that their child's behaviour outside school has improved. The calculation of social return on investment revealed that the benefits were much broader, with families benefiting from improved relations with their child and with the school and community.
Codi'r To follows the El Sistema project developed in Venezuela and many countries worldwide. The music activities for children address disadvantages and educational attainment in areas of multiple deprivation, for the benefit of the children, their families and their communities. The Codi'r To charity delivers music sessions in two disadvantaged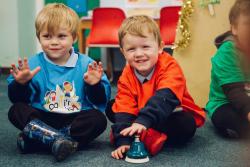 Classroom-based Codi'r To activities.neighbourhoods in Gwynedd; in Ysgol Glan Cegin, Bangor and Ysgol Maesincla, Caernarfon.
Prof Rhiannon Tudor Edwards, one of the report authors explains:
"Social Return On Investment (SROI) allows us to measure a wide range of intangible elements such as the social, environmental and economic impact of the programmes by attributing values to those elements. We were also able to consider not only the pupils themselves, but also the value to their schools, their homes and the wider community."
Report co-author Eira Winrow commented:
"Codi'r To creates a considerable social value of between £4.59 and £8.95 for every £1 invested.' As schools and local authorities face further budget cuts, embedding music in schools becomes more of a challenge. This is the first Social Return on Investment analysis in Wales which demonstrates the positive impact of music in schools and the wider value generated through programmes such as Codi'r To."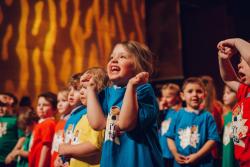 Some of the younger Codi'r To performersCarys Bowen, Co-Ordinator of Codi'r To commented:
''We're delighted with the findings of the evaluation report which re-affirms what we've believed since the beginning of the Codi'r To project, that music education has many benefits that can help transform lives with positive results for pupils, schools, families and the wider community.''
Publication date: 10 July 2018