Coleg Cymraeg Cenedlaethol appoints student Ambassadors at Bangor University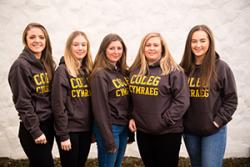 The Coleg Cymraeg Cenedlaethol has recruited ambassadors with the aim of encouraging more prospective students to study part of their degree courses through Welsh.
The 24 ambassadors are located at seven universities across Wales, including five at Bangor University. Elain Rhys, Heledd Evans, Manon-Wyn Williams, Sioned Rowlands and Hanna Lois Jones start their work this month and will be responsible for completing tasks throughout the year.
Their main role will be to persuade school pupils to follow part of their university studies through the medium of Welsh and champion the advantages this brings.
They will represent the Coleg Cymraeg at school visits, UCAS fairs and Eisteddfodau as well as record their experiences in an online blog.
Llais y Llysgennad will give a snapshot of the ambassadors' lives through pictures, videos and much more.
Publication date: 22 January 2018