Coleg funds students to study Psychology Doctorate degrees
Students have received funding from the Coleg Cymraeg Cenedlaethol to study for doctorate degrees at universities across Wales for more than a decade and another ten more will do the same over the next three years.
Two of the new research students are to study at Bangor University's School of Psychology.
Gwennant Evans (no image available) from Pwllheli will combine the arts and sciences by trying to understand how young children respond to the experience of hearing and reading poetry and to discover the link between both experiences. She will begin by recruiting young children who are native Welsh speakers from schools across Gwynedd and Anglesey.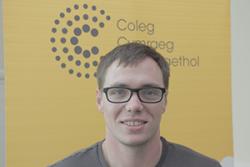 David Parry from Caernarfon has decided to draw on his own personal experience of being brought up in a non Welsh speaking family to discover what prevents some Welsh speakers from speaking the language. His aim is to make contact with those who understand Welsh but don't speak it and encourage their use of the language. He will also be based at the university's School of Psychology.
Prof John Parkinson, Head of the School of Psychology welcomed the new students saying:
"Our School has an important goal to increase the numbers of researchers studying psychology through the medium of Welsh and have accordingly grown our staff and students over the last decade. This investment will result in a significant increase in language skills among the psychology professions of Wales."
Dr Awel Vaughan-Evans, the Welsh-medium co-ordinator for the School of Psychology also welcomed the new students:
"We are proud of, and committed to expanding, the level of Welsh-medium provision offered by the School. The addition of these students will allow us to uphold the current level of provision, and will no-doubt add to the extensive research carried out by our Welsh-speaking staff; the breadth and quality of which was demonstrated at a Welsh-medium Psychology conference recently hosted by the School."
Publication date: 22 September 2016