Conducting students learn from a maestro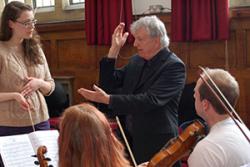 Catherine Linney receiving advice and feedback from Conductor, Owain Arwel Hughes.The School of Music was delighted to welcome world-famous conductor (and Bangor University Honorary Fellow) Owain Arwel Hughes to Bangor recently to lead a student masterclass. Five lucky students, from first-year undergraduate to final-year postgraduate, were given the opportunity to conduct three Slavonic Dances by Dvořák, under Dr Hughes's watchful eye.
One of the student conductors was Catherine Linney, who said 'Owain Arwel Hughes was very encouraging and showed me how it was possible for a conductor to control more than just the tempo; you are in charge of the entire sound!'
Another student who participated was Nicholas Hardisty, who also directs the University's early music ensemble. 'Working with Owain was a really fantastic and eye-opening experience. Merely with a minute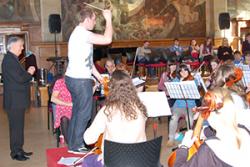 Nicholas Hardisty conducts under Owain Arwel Hughes' watchful eye.change of visual gesture, he showed me how to rein in any straggling players – something that before would have taken me extra rehearsal time to rectify.'
Members of the University Symphony Orchestra were the guinea-pigs for the event, and they too learned much from our guest expert. The orchestra, which includes members of the local community as well as students from all across the university, was especially pleased when Dr Hughes agreed to conduct them himself at the end of the masterclass.
Dr Chris Collins, Bangor University's Head of Music, said: 'We're extremely lucky to be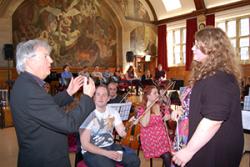 Francesca Reader listens to valuable feedback on her conducting from Owain Arwel Hughes.able to benefit from the kindness of our Honorary Fellows. Owain is one of the most experienced conductors in the world, and the difference in our students' conducting abilities was instantly visible!
Publication date: 16 May 2013