Congratulations to over 300 Bangor University students graduating in Tashkent
We would like to congratulate the over 300 Bangor University students who have graduated in Tashkent last week. The students have worked for their Bangor University degrees at the Management Development Institute of Singapore (MDIS) Tashkent in Uzbekistan. Bangor University has a nearly 15 year old relationship working with MDIS and has offered Bangor University degrees in Uzbekistan for over a decade. The Bangor University programmes delivered in Tashkent are from the Bangor Business School and more recently the School of Computer Science and Electronic Engineering. These programmes are popular and are undertaken by students from all over Uzbekistan in this highly successful and rapidly expanding partnership.
In his well-received and uplifting speech, Professor Turnbull discussed the long standing scientific and literary links which have existed between the UK and Uzbekistan, celebrating the importance of internationalism in education and beyond.
Photo: Professor Oliver Turnbull – Deputy Vice Chancellor, Bangor University with one of our graduating students and hopefully a future graduate.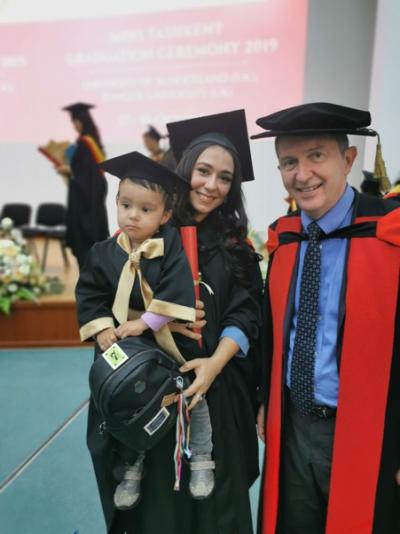 Publication date: 29 October 2019