Continued Investment in the Student Experience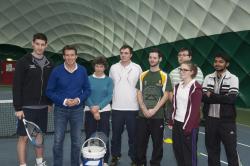 Seb Coe opens Maes Glas Sports Dome
New sport facilities and an exciting new Arts & Innovation Centre are amongst the many developments underway to further enhance the student experience at Bangor University.
Some of the changes can already be seen taking place on campus, with construction work well underway on Pontio – the University's new multi-million pound arts centre – which is due to be open in October 2014.
Work has also started on a major investment programme to improve facilities at the University's Sports Centre. The first phase – the creation of a Sports Dome to provide a new indoor tennis and netball facility – was officially opened last month by the 2012 London Olympics supremo Lord Coe.
And work will now continue on the second phase – during which the Sports Centre will be reconfigured and completely refurbished to create facilities such as a new two-storey gym, a dedicated aerobics studio and improved changing areas.
Bangor's Vice-Chancellor, Professor John G Hughes, said at the opening of the Sports Dome: "We're delighted to have such a high profile sporting personality as Lord Coe visiting us to open the new facility. Bangor has recently invested millions of pounds in developing new academic and social facilities for students, making it an even more attractive place to study."
Other developments as part of the on-going focus on enhancing the student experience include:
Free membership of students clubs and societies. This exciting development makes access to all Students' Union clubs and societies free at point of entry, and means all students can take advantage of the extra-curricular opportunities offered.
Increasing the number and range of opportunities for students to gain transferable skills and experience through work placements, internships, volunteering and the development of enterprise skills and entrepreneurship, as well as the introduction of the sector-leading Bangor Employability Award (BEA).
A new study abroad option to give students the international experience many employers are now looking for. The International Experience Programme gives students the option of studying overseas for one extra year in a wide variety of destinations.
Extra investment in the library service to help support students in their studies, including 24/7 opening hours on the main sites.
A Study Skills Centre, that provides new students with support for the transition to university, as well as on-going support for continued academic progression.
Publication date: 9 December 2013