Contribution to sport and exercise science rewarded
T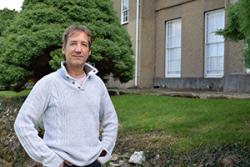 Dr Stuart Beattie at the School of Sport, Health & Exercise Sciences.he British Association of Sport and Exercise Sciences (BASES) is pleased to honour Stuart Beattie, Lecturer in Sport Psychology at Bangor University's School of Sport Health & Exercise Sciences and a member of the Institute of Elite Performance, with a BASES Fellowship in recognition of esteemed professional achievement, skills, knowledge and service to BASES and the sport and exercise science community.
BASES is the leading professional body for sport and exercise sciences in the UK.
Only a select group of sport and exercise scientists have been awarded a BASES Fellowship since BASES was founded in 1984. Fellowships are awarded to those BASES members who have demonstrated a passion and commitment for BASES and sport and exercise sciences. Awardees can place FBASES after their name and act as a leader and ambassador for the Association.
The achievement will be recognised at the BASES Conference 2016 Dinner on Tuesday 29 November at the East Midlands Conference Centre.
Prof Nicky Callow, Dean of the College of Health & Behavioural Sciences commented: "This Fellowship is well-deserved, Stuart is has made a fantastic contribution to Sport & Exercise Sciences both through his own research and his support and encouragement for students over the years."
Dr Keith Tolfrey, Chair of BASES, said: "I am delighted to see so many sport and exercise scientists recognised for their outstanding contribution to BASES and the sport and exercise science community. These awards are hard earned and thoroughly deserved by all recipients."
Most recently, Dr Beattie organised the very successful BASES Annual Student Conference earlier this year. See ( hyperlink to story). He joins Professor Lew Hardy of the School and a number of former staff members who hold BASES Fellowships. A list of BASES Fellows is available here.
Publication date: 30 September 2016