Course rep of the year rewarded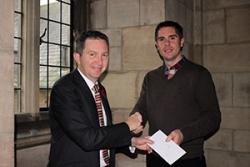 Professor Oliver Turnbull (left) presenting David with the £1,000 cheque.A Bangor University student recently picked up an award for his dedication to representing his fellow students.
David Loveday, 34, from Rotherhithe, London won the Ede & Ravenscroft "Best Course Rep" for years 1 or 2 title along with a £1,000 cash prize. A former student of St Dunstans College, London, David, is currently on this third year of the Social Policy and Criminology with Criminal Justice degree.
Course Reps are elected by students every year to represent students' views about their learning experience. Course Reps have made a huge difference at Bangor over the last few years. More books in the library; faster computers; a stronger WiFi network; logical timetabling; improved assessment methods and a brand new way to evaluate and give module feedback– these are just some of the things that Course Reps have helped to bring about in the last academic year.
Ede & Ravenscroft provide the University with gowns and official photography during graduation week. They have a long history of supporting students by offering annual prize awards in recognition of their achievements, and David is Bangor's first recipient of this generous prize.
Surprised at his nomination, David said:
"To win this prize is quite surreal. It's nice that people took time to nominate and recognise the work that course reps do on their behalf and I feel very proud to have won the award.
"I came to University after a '10 year gap year' where I travelled, lived and worked all around Asia and Australia. I then decided I should grow up and get a proper job and the best way to get a job I was interested and passionate about was to come to University.
"I chose Bangor as it's a long way from the distractions of home and I also developed a liking for places which are completely opposite to where I grew up. Bangor and the surrounding area is a great place to get out and explore.
During his first two years, David worked during the summer and this year, he's a Warden in one of the University's Halls of Residence. He is also a student mentor for OOPPSS, which is a student led public presentation skills class, part of the Social Research module for first year students who are on a social sciences degree.
Last year, David was an active participant of the Student Study Support Group, which is a group conceived by fellow students to help students in all years across the Social Sciences with essay and exam advice.
Publication date: 23 October 2014