Culture Challenge 2013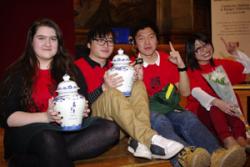 The winning teamBangor University's annual action-packed Culture Challenge was held recently. Organised by the International Student Support Team, in partnership with the CSSA (Chinese Students and Scholars Association) the event celebrated cultural diversity and team working.
The Challenge saw eight teams made up of overseas and UK students go head to head in a presentation round and a general knowledge quiz. The teams were asked to find a creative way to present the culture of one or more of the team members' native countries.
All of the participating teams amazed the panel of six judges and audience with their exciting and stimulating presentations which were followed up by a fast paced quiz.
The winning team consisted of Elinor Higgins, a BSc in Psychology student from the UK, Anh Phuong Pham, an MA Management and Finance student from Vietnam, Zhong Yang Li, a BA Business Economics student & Yuqi Wu, a BSc Accounting and Finance student, both Chinese.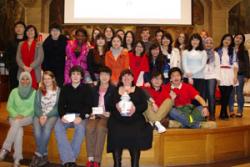 All participating teamsTheir prize is a trip to Shanghai and Beijing during the Easter break. The team will have the opportunity to explore and discover the Chinese culture and meet with former and prospective Bangor University students.
Manuela Vittori, International Student Support Officer said: "Now in its second year, the Culture Challenge provides not only a fun and lively competition, but it also enables the participating students to learn more about each other's countries and cultures. The students' creativity shone through in their well-executed presentations and it was obvious that the teams had worked hard to make them both fun and informative."
Publication date: 5 March 2013