Cutting Edge Green Technology Launched at Bangor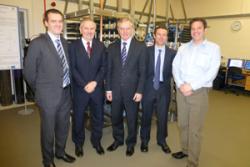 L-R: Damian Kelly, Croda; Dr Ray Marriott, Bangor University; Professor John G Hughes, Vice-Chancellor; Dr Adam Charlton, Bangor University and Paul Vanden Branden, Scimed. A new testing facility, unique in the UK in terms of scale and operational flexibility was launched at Bangor University's BioComposites Centre recently.
Businesses now have an industrial-scale green testing facility at their disposal at Bangor University. This has been made possible with a £345,000 investment from the Welsh Government's European Funded Academic Expertise for Business (A4B) programme.
'The CO2 Lab' makes positive use of the greenhouse gas carbon dioxide (CO2) , generated as a by-product from the chemical and brewing industry. Now scientists at Bangor University can recycle the CO2, and use it as a replacement for traditional solvents used in the chemical industry for a number of applications.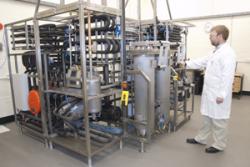 The CO2 lab.CO2 has already been used very successfully as a solvent in processes such as the decaffeination of coffee, the extraction of herbs and spices for food and beverage use and the isolation of waxes and oils for cosmetic and personal care products. Using this technology can provide high purity extracts which are free from organic solvent residues, which can be present with conventional industrial extraction processes.
The BioComposites Centre will be making this technology available to commercial companies and academic groups in particular to support commercial development of new products based on CO2 process technologies including extraction, purification and modification of natural products.
The unique laboratory and pilot scale equipment at the BioComposites Centre will also position Bangor as one of the leading European centres of expertise using this technology. This will give the University an unparalleled ability to expand collaborative links with industry and academic groups in the UK, Europe and North America.
At the launch, Professor John G Hughes, Vice-Chancellor of Bangor University, said: "We are delighted that Bangor University is set to become a UK leader in promoting the adoption of greener chemical extraction processes. This will also lead to the development of strategic partnerships with major global organisations bringing inward investment to north-west Wales and beyond."
The equipment housed in the laboratory was supplied by SciMed, a company specialising in the distribution of laboratory and process equipment.

Paul Vanden Branden, Product Manager at SciMed said: "We have been working with Bangor University and the BioComposites Centre for a number of years now and were delighted to be asked to supply the equipment for this unique laboratory."
Dr Adam Charlton from the BioComposites Centre said "This unique facility will enable Wales to lead the field in a rapidly expanding sector. It consolidates the leading position of the BioComposites Centre for promoting the development and implementation of green and sustainable chemistry into new products and processes."
The installation of this equipment has already lead to the University winning a further Technology Strategy Board (TSB) grant from the UK Government's Business Innovation and Skills Department which will see the BioCompsites Centre working very closely with Unilever and Croda International - a global leader in speciality chemicals. Croda's products form vital ingredients in many household name products. The TSB project will be using "The CO2 Lab" to look at existing materials and assist with the development of active ingredients.
Dr Damian Kelly, Business Development Director at Croda said: "We are very excited about collaborating with Bangor University and hope that this TSB project will lead to further work. We are thrilled to be one of the first companies to use the expertise and equipment at the lab and look forward to a successful and exciting project."
This new equipment has also allowed the BioComposites Centre to secure additional contract research work, and collaborative R&D funding and has resulted in new links with world-leading laboratories including those funded through the Department of Energy in the USA.
Publication date: 16 January 2013