David Evans (1943-2013)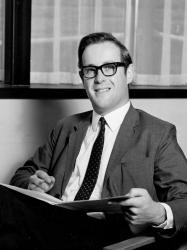 Dr David EvansDr David Evans, former Senior Lecturer in Music at Bangor University, has died at the age of 69. A good friend to all, he will be fondly remembered by colleagues and hundreds of former students.
Born to a midwife and a builder in Llanelli in 1943, David demonstrated musical talent from an early age. His lifelong love of Anglican church music began as a boy chorister. He played cornet in the local brass band, and soon progressed to the French horn: it was as a member of the National Youth Orchestra of Wales that he met his wife Catherine. He went on to read music at University College, Cardiff, and worked in a range of professions from journalist to nightclub bouncer before embarking upon a career in academia that would embrace every one of the Welsh music departments over the course of more than forty years. For much of that time, he worked alongside his wife: Catherine was music librarian at Aberystwyth and Bangor Universities, and her loss to cancer in 2005 was a major blow.
David was a fine scholar; he was an authority on the music of Thomas Tomkins and Adrian Batten, and worked for many years on the unique set of seventeenth-century part-books from Chirk Castle in north-east Wales. But it is his rapport with students of all ages and all abilities that resonates most strongly with all who knew him. He drew out the best from every one of them, encouraging each imaginative idea and gently chiding only the most misguided of theories. An inspired teacher of the dark arts of four-part harmony and Palestrina counterpoint, he leaves generations of students able to spot a consecutive fifth at forty paces – students who today occupy musical professions across Wales and beyond. Their stories of David's kindness are legion.
David never confined himself to a closeted academic lifestyle. Instead, he campaigned to bring music to as wide an audience as possible: working with Alun Hoddinott at the Cardiff Festival of Contemporary Music, for example, or conducting various university-based choral groups in concerts off-campus. His other interests included local history and wildlife; he was a stalwart member of the Anglesey branch of North Wales Wildlife Trust, for whom he acted as cake-baker-in-chief.
It can be said without any hint of unkindness that David reverted to student life after his retirement from Bangor University in 2009. His time again his own, he was able to research freely, and to pursue his interests in any way he chose. One offshoot of this was becoming a partner in a micro-publishing business, Cathedral Press; another was his continued promotion of the music from the Chirk Castle part-books, culminating in a 2009 Hyperion CD release by the Brabant Ensemble under Stephen Rice. He retained a teacher's passion until the end, as happy explaining the bird life in his garden as the fine nuances of seventeenth-century cathedral music.
David leaves two sons, Andy and John, and a community of former colleagues, students and friends who miss him intensely.
David Richmond Arnold Evans, musician and lecturer, born Llanelli 21 February 1943, died Llanfairpwllgwyngyll 11 February 2013
Publication date: 10 April 2013