Day of reckoning for marine invaders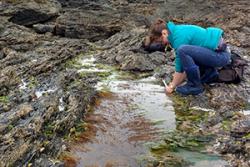 A CoCoast volunteer looking for wireweedVolunteers in North Wales are being asked to help national campaign to track an invasion taking place around the UK's coastline.
For centuries, marine species have moved around either by hitching ride on the hulls of ships or as stowaways in ballast water. In many instances, species have been deliberately introduced for commercial purposes.
Now, a national campaign to record non-native marine species is taking place to map the extent to which non-native marine species are present and to help scientists understand the impact they are having on the coastal environment.
The 'Marine Invaders' campaign will run September 8-11th 2017 and is part of the of the three-year Capturing our Coast (CoCoast) project, led by Newcastle University and funded by the Heritage Lottery Fund.
Dr Siobhan Vye, CoCoast Project Officer, Bangor University said: "Marine non-native species are animals and seaweeds that find their way to our shores from other regions in the oceans. Sometimes, the conditions here in our UK seas are not right for the non-native species to remain, grow and reproduce so only a fraction of the species that move about establish on our coasts.
"Of the species that do succeed, some can a positive effect – for example, they might become a new food source for existing species and increase the biodiversity of the marine environment."
"Others thrive a bit too well and can become pests. These invasive non-native species compete for resources and introduce new diseases. If we can map the non-native species around our coastline then we can get a better understanding of how they're affecting the marine environment."
One example of an invasive marine species in North Wales is the seaweed, Sargassum muticum, commonly called wireweed. This is thought to have arrived in UK waters in the 1960s and now has spread as far as the Isle of Skye. It is thought to be responsible for displacing local species by starving them of sunlight.
Another invader the Marine Invaders campaign is asking people in Wales to look out for is the Chinese Mitten Crab, which is believed to have been introduced by ships emptying their ballast water when they reached port. The crab is native to China and Korea, but has been spotted in the UK in locations as widespread as the estuaries of the Thames and the Clyde. Concerns have been raised about the speed it is establishing itself and the damage it can cause to fishing nets and infrastructure.
Dr Nova Mieszkowska, Marine Biological Association of the UK Research Fellow says: "Non-native species can have both positive and negative effects on local marine communities that they invade and colonise. We still have much to learn about how non-native species affect the ecology of our shores, and this campaign will help to fill this knowledge gap."
'Marine Invaders' is open to the public, all ages, and no special training is required to take part. Participants can visit the CoCoast website, where a list of habitats and non-native species will be provided. Volunteers can then choose which habitat they wish to visit – sandy beach, rocky shore or ports and estuaries - and choose a species to search for. An identification card will be available to download, print and take to the shore to help with their search, which the CoCoast team say should take around 15 minutes.
Records can be uploaded to the CoCoast Marine Invaders website (http://www.mba.ac.uk/marineinvaders), and shared on social media using #marineinvaders
Regular CoCoast volunteer Dave Bell, Cullercoats, who will be taking part in the Marine Invaders campaign, said: "I'm taking part because I am concerned with the interaction of the invasive species with the existing local inhabitants."
The CoCoast partnership involves Bangor, Hull and Portsmouth universities, the Scottish Association for Marine Science, the Marine Biological Association of the UK and the Marine Conservation Society. Along with Earthwatch Institute, the Natural History Museum, Northumberland Wildlife Trust, the Centre for Environment, Fisheries and Aquaculture Science (Cefas) and the North West Costal Forum.
To sign up, and to find out more about the Capturing our Coast project, visit www.capturingourcoast.co.uk
Publication date: 6 September 2017