DeLPHE (British Council) link contributes to Agroforestry in Ethiopia
Dr Ze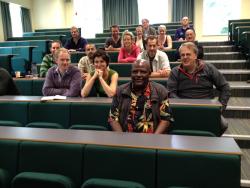 bene Asfaw, Senior Lecturer in Agroforestry from Wondo Genet College of Forestry and Natural Resources, Hawassa University, Ethiopia, has returned to Bangor University after 22 years to meet with current staff and students from the School of Environment Natural Resources and Geography (SENRGy) at the conclusion of a three year collaborative project between the respective institutions.
Bangor graduate from 1990 (MPhil Forestry), Dr Zebene Asfaw has been coordinating a project sponsored by the UK Government's Department for International Development (DFID) entitled 'Strengthening Institutional Capacity for Teaching and Research in Agroforestry and Integrated Natural Resources Management (INRM)' (2009-2012). The project has been funded as part of DFID's Development Partnerships in Higher Education (DELPHE) programme and has also been facilitated by the British Council in Ethiopia.
Six members of staff from Wondo Genet have been working closely with Dr Zewge Teklehaimanot, Senior Lecturer in Agroforestry from SENRGy. Activities have included curriculum review including rural extension service needs assessment, staff capacity building and training, generous postgraduate research funds and practical field training.
On returning to Bangor, Dr Zebene Asfaw commented "My studies in Bangor helped shape my life and my career. It's a great opportunity for me to return to Bangor after so long to find out what is going on, particularly the long-term agroforestry experiment at the Henfaes University Research Farm."
"The DeLPHE project has raised the profile of Wondo Genet to the national stage in Ethiopia and contributed towards agroforestry and integrated watershed management becoming the priority of the Ministry of Agriculture extension service. Local communities have also benefited from the link through training and provision of tree seedlings."
Dr James Walmsley, Lecturer in Forestry (SENRGY) said "It's great to have Dr Zebene Asfaw visiting us at the conclusion of this important project. Having studied with us more than 20 years ago in the Thoday Building, It will come full circle when Dr Zebene takes centre stage in room G23 on Monday 6th August and presents his current work to around 50 of our current forestry students who are here on their summer school."
Publication date: 9 August 2012