Designs unveiled for £20m Menai Science Park as Minister visits site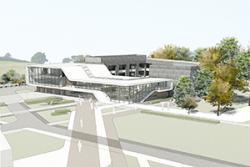 Exterior view.Development of Menai Science Park (M-SParc) took another step forward today with the unveiling of the architectural designs for the first building proposed at the Gaerwen site during a visit by Minister for Economy, Science and Transport Edwina Hart.
Last week First Minister Carwyn Jones announced £10m of EU funding for the M-SParc, which, together with £10m funding already awarded by the Welsh Government, completed the investment package to get the development underway.
Mrs Hart viewed the designs for the £20m science park with M-SParc's Director Ieuan Wyn Jones; Vice Chancellor of Bangor University, Chairman of M-SParc and Vice-Chancellor of Bangor University, Professor John G. Hughes and science lead for the Menai Science Park, Sian Hope OBE.
The 5000 sq. mt. three-storey building - which will be constructed to BREEAM Excellence standards - will form the hub for the entire Parc and makes the most of the stunning views across into Snowdonia.
The designs by FaulknerBrowns a renowned architectural practice that has successfully delivered a number of similar projects including innovation and science research centres across both science parks and university campuses - will go on public display later this week.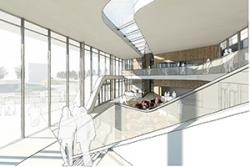 Interior view.The Minister said: "Plans for Menai Science Park are now moving ahead at a pace and today marks another milestone in what promises to be an exciting and dynamic new chapter for the Island and its economy.
"The Parc's focus on energy and clean technology and its plans to link academic research with commercial expertise are designed to create new jobs, attract new investment and support businesses growth. Above all it will be in pole position to maximise the very real economic benefits presented through a pipeline of major energy investments planned for the Island."
As part of the planning process, M-SParc will be holding a public consultation event to display the proposed designs for the first building on site. This will take place on Thursday 29th October between 10.30am-7.30pm in the vestry of Disgwylfa chapel in Gaerwen. Members of the Project Team will be present at the consultation and details will also be available on the new website, www.m-sparc.com.
Pryderi ap Rhisiart, Project Manager, Menai Science Park Ltd, added: "M-SParc aims to create an exciting and unique environment for companies and employees alike. It's a space that will inspire, it will be full of energy and supported by an enthusiastic M-SParc Team who will work with tenants to help their businesses grow and prosper. We are looking forward to sharing the designs developed by FaulknerBrowns with the public.
Andrew Kane on behalf of FaulknerBrowns, said, "We understand the needs of science parks such as M-SParc from operational requirement to design factors behind this building type. We also know what is required in order to develop a strong sense of community and we look forward to working with the M-SParc team and its partners to deliver this first building."
M-SParc's 30-year vision is based on creating highly skilled long-term employment opportunities for local people, developing a knowledge-sharing environment and creating an economic hub in sectors such as low carbon, energy and environment and ICT. The science park, which is an important element in Bangor University's strategic ambition to develop science within the region, will create a bridge between such companies and the university's extensive science research and teaching activities. The project aims to create a unique cluster economy to encourage hi-tech industry and scientific research partnerships in north-west Wales.
Publication date: 27 October 2015