Distinguished Bangor Alumnus leaves generous legacy to Agricultural Botany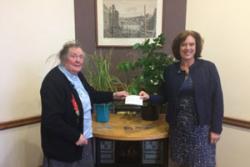 Rev Wendy Williams, Dr Williams' sister and fellow Bangor alumnus, presents Prof Morag MacDonald, Head of the School of Environment, Natural Resources and Geography (right), with her brother's bequest.John Trevor Williams (PhD Agricultural Botany, 1962) made an enormous contribution towards conserving the genes of the world's food crops and has now ensured his legacy goes even further by leaving a £75,000 bequest to support Agricultural Botany at Bangor University.
Dr Williams, who passed away in 2016 at the age of 76, was one of the "fathers" of the so-called Doomsday Vault, the Svalbard Global Seed Vault in Norway where millions of seeds are stored for posterity deep beneath the Arctic permafrost.
At the International Board for Plant Genetic Resources in Rome, where he was Executive Secretary, then Director from 1974 to 1989, he led a programme of collecting, conserving and sharing the crop varieties that farmers had grown for centuries – the genetic resources needed for plant breeding and crop improvement.
At the time farmers were adopting new, higher-yielding seeds and many traditional crop varieties risked becoming extinct. One way to preserve genetic diversity was to place seeds in a gene bank for long-term conservation. By the time he stepped down as Director, there were more than 1,000 gene banks or collections around the world.
Dr Williams' sister, the Reverend Wendy Williams, who is also an alumnus of Bangor (MA Biblical Studies, 1957), recently presented Prof. Morag MacDonald, the Head of the School of Environment, Natural Resources and Geography, with a cheque for £75,000. This generous bequest was left to Bangor University by Dr Williams to support the advancement of Agricultural Botany.
Dr Williams' wonderful bequest will be used to further his lifelong mission for further research into crops and continue the legacy of his lifetime.
Publication date: 8 March 2018